In my early 20s I was working for an auto parts distributer in Mars, Pennsylvania. I started thinking about my future and the need for a more secure career. I had always been interested in electricity, so I decided to take classes at a local tech school and get a degree in Electrical Technology. Just as I finished, a fire suppression company in the area contacted the school looking for a recruit. They sent me on an interview, I was hired, and worked there for nearly seven years. I was able to learn the trade quickly and really enjoyed the work I was doing. I've always liked the diverse workload of testing one day, troubleshooting the next day, and installing or programming another day. Working in a life safety field has always given me a sense of accomplishment and a feeling that I'm doing something important. That is why I've remained focused on a career in fire protection for over 20 years now.
I started with ORR Protection in August 2005 as a field technician in the Ohio branch. In February 2008, I relocated to Ft. Myers, Florida, with ORR. But after nine years of relentless heat, sun, sand, and wind, we decided to relocate back to Ohio. I am now a field service supervisor living in the south Cleveland area.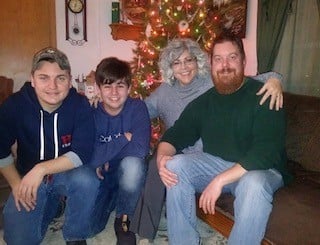 ORR Protection is different from other fire protection companies in a couple of ways. We are not the largest company in the industry, but we are much bigger than most. Being nationwide, gives associates the option to move if that is best for their family and still remain with the company. We also have distributorships and can perform work on many different manufacturer's equipment. This gives us the opportunity to expand our knowledge base and keeps the job interesting.
The best part of my career with ORR so far has been the many relationships I've made throughout the years, not only with fellow field technicians but also with office personnel. It is a tight-knit group of great people who care about each other.
In 2019, I was presented with the Focus on Safety award at our annual technician conference. It was unexpected and very much appreciated. I would be honored to receive any award, but it means even more to receive a safety award from a company whose main focus is safety. As always, I really enjoyed spending time with technicians who I don't see on a regular basis and meeting new technicians from around the country. The tech conferences are always geared toward team building and learning, as well as a great opportunity to take a short break from work and have fun.
I've learned so much while working at ORR. The training classes and seminars offered are extremely beneficially, but I believe I've learned the most by working and collaborating with the many knowledgeable ORR technicians. We have many technicians with a great deal of knowledge and experience located all over the country. That gives us a large support network for assistance any time help is needed. And in my experience, ORR technicians are always happy to help each other out.
In my free time I enjoy woodworking, logic puzzles, and spending time with the family. I'm currently (and slowly) renovating my house, so that takes up a lot of my time on the weekends. During the warmer months, we enjoy day trips to Geneva-on-the-Lake and every now and then I unsuccessfully try to catch a fish from the pond next door.