It is common knowledge that lead-acid batteries, when they are charging, release hydrogen gas that can potentially result in an explosion. In 2001, a hydrogen gas explosion occurred in a California data center in the UPS room where batteries were charging. Fortunately no one was harmed; however, the data center did sustain significant damage including the collapse of several walls and ceilings. The explosion also resulted in a large hole in the roof of the building.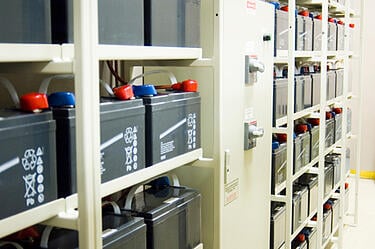 Unfortunately, in this case the cause of the explosion remains unknown. The data center owner had installed both a ventilation system and a hydrogen gas detector in the
UPS
room. When the fire department arrived on the scene, the hydrogen gas detector was reporting an alarm signal. During the investigation, several occupants reported hearing the alarm for three days prior to the explosion. Both a hydrogen gas detector and a ventilation system are required for a safe battery charging room, but somehow in this case that equipment did not perform adequately. The question is, "How can you avoid this unfortunate event in your data center?"
Requirements for Safely Designing a Battery Charging Room
In Article 320 of
NFPA

70E
, Standard for Electrical Safety in the Workplace, designers and building owners can find requirements for safely designing a battery charging room. This standard requires a ventilation system to exhaust air from the room to the outdoors. Since hydrogen gas is lighter than the air in the room, it should be arranged to exhaust from high in the room. Configure the ventilation system so that it will limit hydrogen gas concentrations to less than 1% concentration by volume. When the hydrogen concentration rises to levels above 4% there is a substantial risk of an explosion.
But how should the fire protection system interact with the ventilation system and what role should it play in notifying the occupants? The answer is simple. The fire detection system can monitor for both smoke and hydrogen, notify occupants of either, and control the battery room's exhaust fan(s).
What should your focus be?
Data center managers who are focused on achieving maximum uptime recognize the importance of providing good fire protection not only in the server rooms, but also in spaces containing power distribution equipment. It is common for consulting engineers to specify Air Sampling Smoke Detection (ASSD) for protection of data processing rooms, power rooms and battery rooms.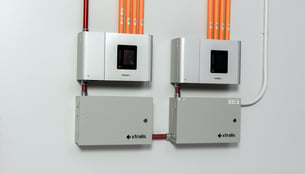 The VESDA air sampling smoke detection system by Xtralis offers data center managers a unique opportunity to address both the fire and gas detection needed for the protection of battery rooms. Xtralis' VESDA ECO gas detection product leverages the air sampling pipe network within the battery room to easily and economically detect harmful levels of hydrogen gas. The ECO gas detectors are installed in-line with the sampling pipe downstream of the battery room.
TheECO sensor provides both a relay output and an analog output (4-20mA) which can be monitored by either the fire alarm system or other building control system. These systems can use that signal to activate the exhaust fan(s) in the battery room. It will also be necessary for these systems to monitor the operation of the fan(s) using either a current switch or an airflow proving switch.
Programming a Proper Sequence of Controls
Of equal importance to the form of gas detection used is programming a proper sequence of controls. The exhaust fan should be set to cycle on and off or modulate its speed to maintain a safe level of hydrogen. The fire alarm control panel can be used to provide a local alarm signal when the hydrogen concentration exceeds one percent. Alarm notification appliances such as a specially labeled horn and strobe light can be placed both inside the battery room and outside each room entrance.
Additionally, one should consider providing warning signs to accompany these local alarm devices which include emergency response instructions. Depending upon the facility, it may be appropriate to evacuate the entire building when the hydrogen level exceeds 4%. A fire alarm service provider can program the control panel's notification appliance circuits to achieve these different levels of notification.
Finally, one should consider whether it would be appropriate to shut down the battery charging system when an unsafe hydrogen level exists. This will depend upon the arrangement of the facility's power delivery equipment and on-site personnel training levels. When the facility has an additional backup UPS power source, then it makes sense to shut down the battery charging equipment creating the problem. If no backup UPS power source exists, then this becomes a more difficult decision to make. The battery charging equipment should most definitely be shut-down when on-site personnel are not trained to respond to unsafe hydrogen gas conditions.
Hydrogen buildup in UPS rooms and battery charging areas will occur slowly and protecting against the danger of explosion can be easily accomplished using a well-designed ventilation system. Remember that ventilation systems can fail. Be certain to include a hydrogen monitoring system and means for notifying occupants so hydrogen gas problems can be mitigated before an explosion occurs.
If you have any questions click here to Ask An Expert.
---
Editor's note: This article was orginally published on July 16, 2012 and has been updated with the latest battery charging room information.