Fire System Services
ORR understands that as Facility Managers, you are challenged with dealing with multiple contractors for many buildings, while having limited resources and time to manage it all. Simply said, you need to be able to make one call to get the job done, and to know you don't have to question whether it got done or not.
We are confident that when it comes to fire protection, ORR is your answer for local, regional or national service.
24 Hour Emergency Response
Inspection and Testing
Repairs
Recharge
Room Integrity Fan Test
Monitoring
Training
Design Build Services
Modification
Decommissioning
Online Reporting
NetSITEprovides secure, online access to all critical information related to any fire protection system at any facility or site serviced by ORR. Our in-house software developers utilize leading-edge, web-based technology to provide you with instant access to complete installation, inspection, and service history to save you valuable time, reduce department workload and assist you in meeting reporting requirements for NFPA, State and Local Fire Marshals, OSHA, insurance companies and other corporate needs.
NetREPORTforever changed the fire protection inspection industry with the introduction of its comprehensive inspection automation system, powered by InspectionLogic. Utilizing the latest in handheld computers combined with NetREPORT's state-of-the-art internet based Inspection, Testing and Maintenance software, this innovative technology adds value to ORR's service by combining three powerful elements; paperless data collection during inspections, secure SQL server database, and web-based document management.
National Accounts Program
Companies with many facilities spread over a large geography are looking for one vendor who can provide a full range of services anywhere with just one phone call.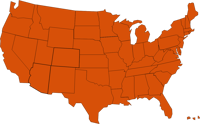 ORR's Formula for Success
Single Point of Contact
One call does it all
Local expertise
Online Reporting
National coverage
Continuing Education
Morning with the Experts Seminar Series
ORR Protection conducts informative seminars open to the public.
Lunch & Learn Programs
ORR Protection will host a Lunch & Learn training session at your location on a topic of interest to your team.
Constructing a Clean Agent Room
Information for General, Mechanical and Electrical Contractors
Permitting and Submitting Information
Information for Permits for Suppression Systems
Codes and Standards
The National Fire Protection Association (NFPA) develops, publishes, and disseminates more than 300 consensus codes and standards intended to minimize the possibility and effects of fire and other risks. Virtually every building, process, service, design, and installation in society today is affected by NFPA documents.
Final Inspection & Commissioning a System
Requirements for Final Inspections
Ask the Expert
Commonly Asked Questions