Functional Test of the following:
As part of the initial commissioning of any new system, at minimum it shall be required by local, state and national Code to test the following: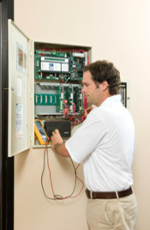 Operation of the Control Unit including lamps, LEDs, LCD's and fuses.
Alarming of each smoke detector by introducing smoke into the chamber of the detector.
Activation of each fire alarm pull box, manual pull station or manual release station.
Trouble annunciation from supervised circuits such as SLC (Signal Line Circuit).
Verification of off-site monitoring communication within the prescribed time limit.
Operation of keyed by-pass switches, maintenance switches and abort stations.
Fully loaded audio visual annunciation test for minimum prescribed time limit.
Verification of interlocks such as control shutdowns, fan pressurization activation, damper closures, etc…
Pressure testing of suppression pipe network for prescribed time limit.
Room pressurization testing for prescribed time limit.