I have been with ORR Protection for nearly three years, and things are going great! I have learned a lot and gained a great deal of experience since the last blog post. I completed the apprenticeship program and am now a Level II Field Technician. With the knowledge I gained in the apprenticeship program, I was able to pass both my Level I and II Fire Alarm NICET tests and my Special Hazards Level I NICET test. And since I'm no longer an apprentice, I am able work independently. This frees up more experienced techs and managers to go on other jobs instead of helping me complete my work.
The biggest highlight of my career so far was passing my Fire Alarm Level II NICET test on the first try. It's an extremely difficult test and I studied for months, but ORR's apprenticeship program really helped me feel prepared and confident when taking the test.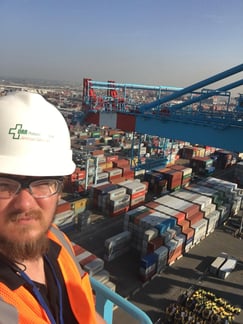 As I progress with ORR, learn more and get additional certifications under my belt, my interest is growing in the design realm as an option for my future. We had a few days of design class during our Level II training class at the corporate training center, and I really enjoyed all aspects of the concepts we covered. It made me realize there are different career paths to choose from while working for ORR. My experience with other jobs is that you only have two career paths: a worker or some sort of management position. Management never really appealed to me and I'm happy to see there are other directions my career can take as my skills continue to grow at ORR.