Just a few years ago, Bob Devlin and Aaron Wille ventured to build an incredible opportunity for their fellow ORR Associates -- a training program that would elevate the skillsets, confidence and leadership levels of our large team of technicians.
Here's how they got started in this endeavor, what they've learned about the process and the impact
they've had on our teams on individual and widespread levels.
"Two years ago, we launched an apprentice program to train new Field Service Technicians for OPS," says Bob (shown on the left side of image).
"That program focused on teaching them to complete fire alarm inspections on the variety of systems we work on. Starting this past January, we've taken that to the next stage by launching a 10-month level 2 training which focuses of Clean Agent and Special Hazard suppression systems."
Twenty-three technicians from across the country will participate in this first round of Level 2 training. Many of the participants started as apprentices with ORR, while others joined ORR with fire alarm experience but are new to fire suppression work.
No matter their backgrounds, the ORR technicians who seize the opportunity to join the Level 2 training are privy to attentive instruction, advanced coursework and many other ways to learn in a hands-on environment.
A Fire Protection Jobs Program with Impact
When asked, "Why is it important for a company to have an internal training program like this?," the answer was fairly easy for Aaron and Bob: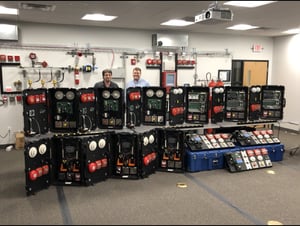 "The fire protection industry is growing quickly, and there aren't enough experienced technicians to go around, so every company is feeling the pressure to find new technicians."
"What's different about ORR is that we work on a variety of the most specialized systems out there in mission-critical environments, so our technicians operate at a higher level. Having an internal training program allows us to select high caliber candidates that fit ORR's core values and train them from the ground up."
"The goal being that they leave the training understanding not only what steps they need to take but also the reasoning behind those steps in the first place."
The training incorporates many styles of learning and phases of education to cover as much ground as possible:
e-Learning on the code, technology systems, etc.
Hands-on training in Louisville at our ORR University Center
Field work paired with mentors to show them the ropes and reinforce the coursework
A Changing Landscape for Safety Careers
The next-level training that Aaron and Bob lead is not only essential to helping individual associates grow and learn, but also to drive impact company-wide.
"A technician that is new to fire protection is limited in what job sites they can visit independently," Aaron says.
"Along with the training itself we support our technicians earning licenses and certifications. This is a great opportunity for an individual technician to advance their career in a growing industry. It also improves the work/life balance for their whole technician team since they'll be better able to distribute the workload."
"The technology used in these systems is getting more and more complex," Bob adds. "As are the codes and regulations around them. That's only going to continue in the coming years, making training more and more important."
Are You Prepared to #JoinORR?
We're thankful for the ORR Associates like Aaron and Bob who allow us to feature their stories on our blog.
But you should know that each of our team members started out with just an idea, an opportunity and an application.
If you're interested in joining our mission at ORR, start by exploring our Careers Page.