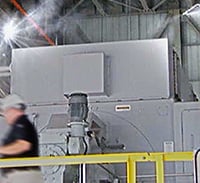 Steam turbine generators are a common sour
ce of energy production for public utilities and industry. The efficient operation and availability of the
se turbines are of the greatest importance. Outages caused by unexpected shutdowns lead to significant financial losses and higher generation costs. The turbine's ability to operate smoothly and efficiently depends on the bearing lubrication system. If for any reason lube oil flow is interrupted, then the spinning rotor shaf
t will make metal-to-metal contact with the inner bearing surfaces. The failure of the bearing can result in catastrophic damage and extended outages.
Lube oil for the bearings is pumped from a lube oil tank and pump skid. Lube oil systems contain a few hundred gallons of combustible lube oil. The oil is pumped at pressure and because of a piping system breakage, leak, or seal failure can sometimes spray onto readily available hot surfaces and ignite.
FM Global has performed large-scale power generation fire protection fire tests of these fire types which showed that lube-oil fed fires on turbine systems can be catastrophic if not protected. Inadequate fire protection and a lack of proper emergency response protocols can worsen the severity of these fires.

Water mist fire protection systems can potentially be used to provide adequate protection for steam turbines. Water mist has been proven to extinguish combustible liquid fires in the varieties found during the FM Global turbine fire tests including: pressurized spray fires, pool fires, and vertical surface fires resulting from combustible liquid streams as well as combinations of these three dimensional fire geometries. The firefighting action of water mist systems is well documented in NFPA's Fire Protection Handbook.
A high-pressure water mist system was recently applied at an industrial plant facility on a 35 MW steam turbine generator. The plant owner wanted to select a system that would extinguish the fires that might occur and had previous experience with high pressure water mist systems. The turbine building was larger than any of the current total flooding system approvals for any water mist systems. A local application water mist system was applied to protect the three turbine bearings and lube oil skid. The local application system was configured according to MSC/Circ.913 Guidelines for the Approval of Fixed Water-based Local Application Fire-fighting Systems for use in Category A Machinery Spaces and fire tests conducted at VTT and described in Test Report No. RTE11160/99 Evaluating the Extinguishing Capabilities of the HI-FOG Local Application Fire Protection System in Machinery Spaces According to IMO MSC/Circ.913 VTT Building Technology, June 1999.
The system included two zones of protection, the bearings and the lube oil skid area. It was configured to discharge one zone at a time and provide protection for 40 minutes during the turbine shutdown period. The water mist system was arranged for manual discharge selection by the turbine system operator. Automatic fire detection for the turbine space was via video smoke and fire detection cameras which allowed alarm verification remotely for the operator who can initiate the turbine shutdown sequence before releasing the appropriate water mist zone. The system was installed and commissioned in January 2014.
Looking to learn more about how to choose the right partner for your Power Generation fire protection?