One thing is for certain, there has been a lot of progress made in the fire protection industry over the years. New technologies have emerged over the past few years that we want to highlight for you as possible solutions for old and new applications. NFPA codes and standards have been updated in recent editions to recognize and accept the use of these emerging fire protection technologies.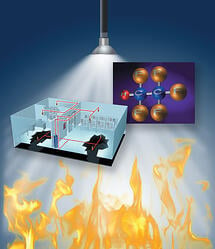 Water Mist
We know water mist is not a new technology. It began to have commercial use in the US Market in the '80s; however, a new class of high pressure water mist system has helped this product move from more industrial environments to more sensitive applications like museums, hotels and data centers. Systems like Marioff HI-FOG Water Mist work by releasing a fine water mist at high velocity which cools the space, blocks radiant heat and reduces the oxygen reaching the fire. Watch this great video explaining the process a bit further. Click Here
Novec 1230 Clean Agent
Those looking to make a green fire protection choice should consider 3M™, Novec 1230 fire protection fluid. 3M™ introduced this eco-friendly clean agent fire suppression product 10 years ago to address a global desire to reduce greenhouse gas emissions. This emerging product offers a unique combination of safety, low environmental impact, and a high degree of extinguishing performance. Watch this video to see how it works. Click Here
Video Image Smoke Detection
Video Image Smoke Detection (VISD) is a true breakthrough in fire protection. This technology is based on the computer analysis of video images provided by digital surveillance cameras. In large open area facilities with high ceilings, traditional smoke and fire detection methods are impractical, ineffective and difficult to maintain. High airflow and smoke stratification can prevent smoke from reaching spot-type smoke detectors. VISD is different because it visually detects the presence of smoke at its source, independent of airflow in the area. This technology not only provides an early-warning fire alarm signal, but also provides those monitoring the video the opportunity to respond more effectively. Watch this video to learn more about this emerging technology. Click Here
Exit Point Audible Notification
Exit Point Audible Notification, is a very unique product which unfortunately has not been overly accepted in the marketplace. I say unfortunately, because if you really study Exit Point, it has some phenomenal life safety features not found in any other product. Exit Point acts as an audible exit sign that helps building occupants pinpoint the nearest exit location and guides them to the building exit quickly and safely, even when visibility is impaired. This technology uses "directional" sound devices which produce special audible characteristics allowing the human ear to easily determine the direction the sound is coming from. In an emergency situation, speedy evacuation is critical. This product can potentially reduce evacuation times by 75%. Click here to learn more.
To learn more about these future trends and emerging technologies, be sure to check out this great educational tool developed by ORR Protection Systems. Click Here
ORR Protection will host a Lunch & Learn team training program discussing future trends and emerging fire protection technologies at your location and we provide the lunch! Whether you select one or many of our most popular topics or even request a different fire protection subject, we look forward to serving your team at no cost to you. Follow the link below to register for this or any of our other educational programs. Click Here