Tara works tirelessly behind the scenes to build and administer ORR's wellness and benefits offerings. As the face of those programs, Tara decided to begin her own personal wellness journey hoping to inspire other ORR Associates along the way.
Get to know Tara and learn more about her professional experiences and personal transformation.
How did you get started at ORR?
ORR was looking for a benefits administrator, and I was contacted by a recruiter through LinkedIn. I previously worked for a family-owned company that was similar in size but didn't have openings in Human Resource. I was excited to join a company with a similar culture and to have the opportunity to really use my Human Resources degree.
You've been with ORR for more than five years now. What has your experience with organization been, and what are the highlights?
ORR has given me the opportunity to grow and develop my knowledge and skills. A highlight for me was completing my first open enrollment. Being trusted to communicate such important information and manage the process from start to finish felt great. It was also the first time that I had the opportunity to travel to our other branches and locations to meet associates outside of the corporate office. Meeting people face to face and having the opportunity to get to know them and establish relationships is so beneficial. I believe it has allowed our associates to trust me and have confidence in my knowledge and abilities. I look forward to those meetings every year now, even if they have to be virtual in our current COVID environment.
A second highlight for me has been on a personal level with my fitness and wellness journey. I was involved with benefits at previous companies but was never able to manage or implement a wellness program. Managing these programs has motivated me in a way I never would have imagined. Being healthy and happy personally goes a long way and I want to share that with our associates.
How have the wellness offerings at ORR changed in the last year?
For many years, ORR has offered an incentive discount towards our medical premiums for those associates who participate in an annual biometric screening. This is a great benefit, but it only helps associates who carry medical coverage through ORR. It also isn't interactive throughout the year.
Last year we partnered with Humana's Go365 wellness program to offer a more comprehensive wellness plan to all associates. Associates can now earn additional rewards for living a healthier lifestyle all year long! Points can be earned for educational, prevention, healthy living, and fitness activities. The program offers status levels of bronze, silver, gold, and platinum. We even took things a step further by making the program available to dependents who are covered on our medical plan as well. The points earned by associates and dependents can be cashed in for gift cards, fitness equipment, and more!
How has your wellness journey changed or improved?
I felt a responsibility as the owner of the wellness program to really embrace Go365 and promote it. I tried to be the first person in the organization to reach platinum, and I came in a close second! Working to become more active made me realize how much better I feel when I take control of my overall wellness.
A friend asked me to do a program with her called 75 hard. For 75 days I completed two 45-minute workouts per day, and one was outside rain or shine. I also drank a gallon of water daily, followed a diet with no cheat meals, consumed zero alcohol, and read 10 pages of self-development material a day. When I first started, everyone told me I was crazy, and I thought I might be too! But at the end of the 75 days, I had lost 32 lbs and was down two clothing sizes. The mental clarity and sense of accomplishment I felt was even better than the physical changes.
The pandemic has been hard on everyone and finding this type of outlet to deal with stress and anxiety instead of turning to food was just what I needed. I have also cashed in $250 worth of gift cards since we started Go365!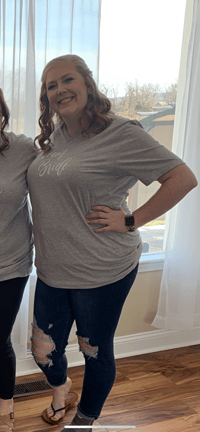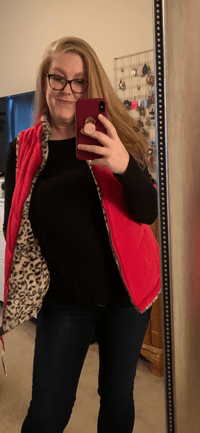 What are your favorite parts of your job?
I love interacting with our associates. Open enrollment is my busiest time, but it is so worth it to connect with everyone. I also like when I get to be creative or try to find new benefits or programs to offer. I'm just a benefits nerd and I love being able to share my knowledge with everyone!
Which of ORR's Core Values resonates most with you, and why?
I would have to say Continuous Improvement. ORR Associates are my customers and I work hard to provide the best benefits I can for them. I also try to continuously improve processes and access to things to make our benefits programs easy to use and understand.
Follow Your Passions as You #JoinORR
It's clear in speaking with Tara that ORR is a place to grow and become a better version of yourself. Whether you're already in the safety or fire protection industry or are looking to make a leap to a more meaningful career, you can find your own path here.
Start here by exploring the current available positions at ORR.