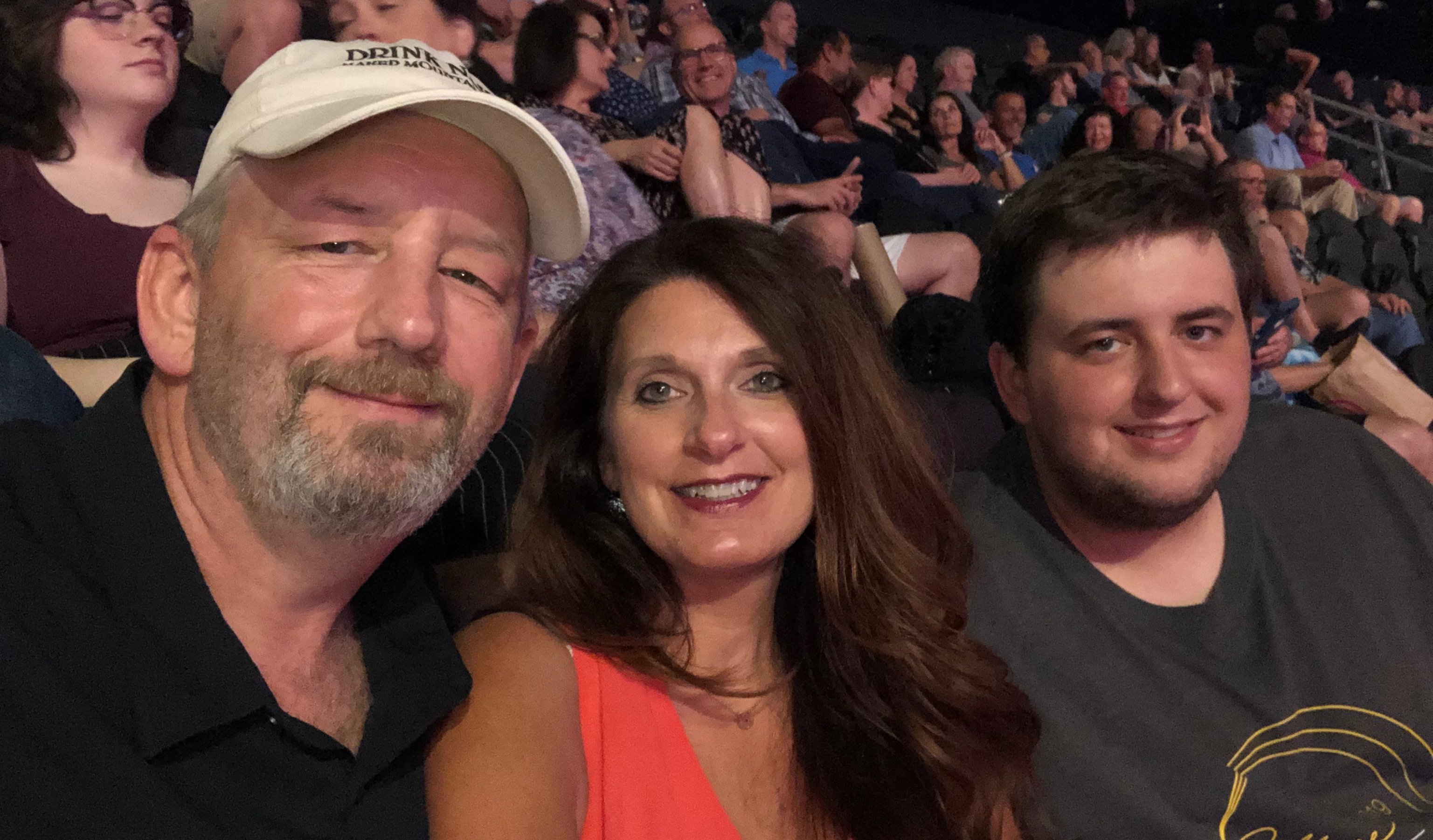 Rhonda is used to giving others the spotlight. But as the senior administrator on our Power Generation team, she is an essential member of our team -- whether it's in her travels, her face-to-face time spent with our valued customers or performing nitty-gritty, detailed administration work.
Get to know Rhonda (shown above with her husband Mark and son Clay) and see the experiences she's had along her ORR journey.
How did you get started at ORR?
After graduation, I was ready to go to work. At the time, I went to church with a man who worked at ORR. It just so happened that they were hiring! I applied, interviewed and came to work for ORR in March of 1990 as a receptionist/admin for the Southeast Region. ORR really took a chance on me because I had zero experience.
You've been with ORR for a long time. What has your path through the organization looked like?
When I first came to work at ORR, we had just landed a large contract installing VESDA systems across the southeast for a large telecommunications company. I spent most of the first year folding drawings and preparing submittal packages and then as-built packages after the projects were complete. I still consider myself an expert at folding drawings!
The first major change at ORR after I started was the de-centralization of service. What this meant was that the regions were going to start scheduling and invoicing their own service jobs. I raised my hand to take on this challenge and became the service coordinator for the SE Region. This was the beginning of my 25+ year partnership with Rick Reynolds.
I was the SE Region admin all through the 90s. Around 2000, I was offered a new challenge and became the first National Accounts Coordinator. At the time Rick asked me to become a NAC he described his vision for National Accounts.
He said that eventually there would be at least 10-15 people working in the office. At the time I just shook my head and thought that he was crazy. Boy, was I wrong!
Later, as Rick's vision became reality and the need for administrative assistants developed, I was promoted to manager of administrative services for National Accounts and the Southeast Region.
When the national and regional structures changed again, I stayed on the National Accounts team, reporting to Rick Reynolds, vice president, through these changes. Rick says that I never miss an opportunity to announce that I have been with the company longer than he has (a whole six months), and everyone knows he really reports to me, ha!
Most recently, with the additional of our Power Generation division, I am now a senior administrator, and still report to Rick. Daily, I provide support to Rick and his team. However, I consider myself a support associate for the entire organization.
What are some of the highlights from your years with ORR?
A highlight for me was when the ORR Protection Systems team first achieved ISO registration. It was a lot of blood, sweat and tears and everyone worked relentlessly toward this achievement. As each branch went through their audits, we rooted for each other and cheered when we passed. That was a true highlight during my time at ORR.
A second highlight for me has been on a personal level:
I

have met some of my very best friends at ORR. I will not name names to protect the "innocent," but they will be life-long friends, and my prayer is that long after retirement, I still see many of the same people that I work with today.
I was also co-awarded the ORR Protection President's Award for years of dedicated service. This was another highlight of my tenure at ORR.
A recent highlight was attending NFPA 2019 for the first time. National Fire Protection Association is one of the largest annual shows in our industry. I considered it a huge honor to attend as a representative of ORR Protection.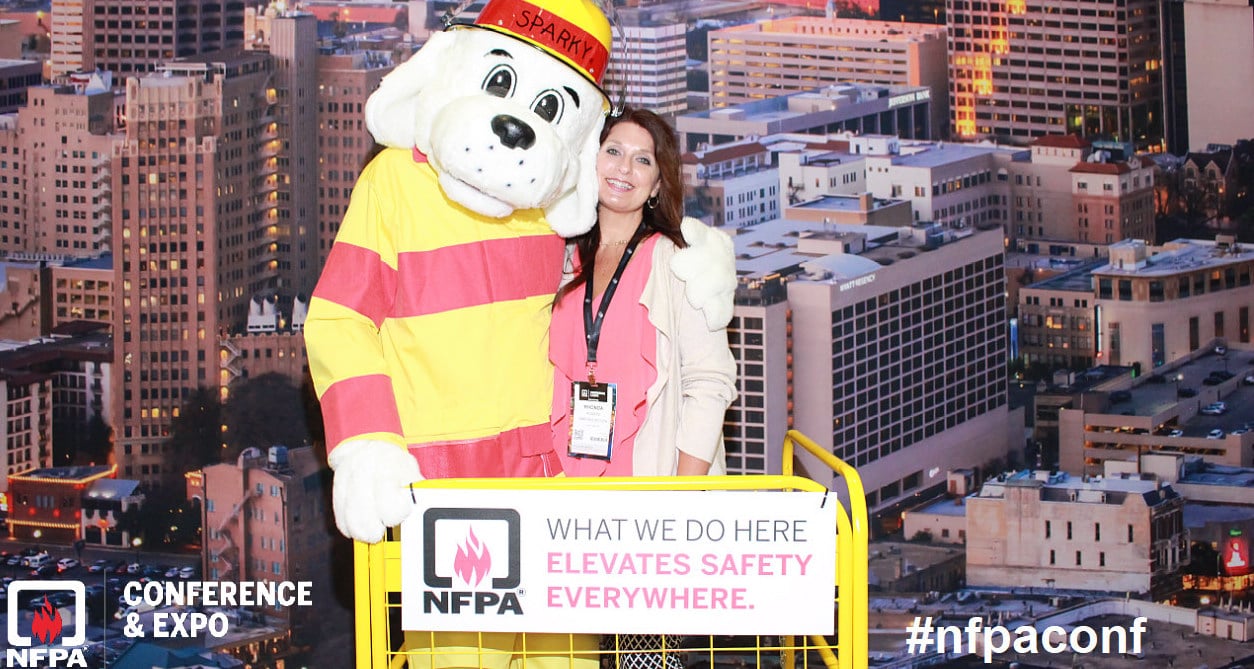 How has the Power Generation branch of ORR's business changed recently?
The Power Generation division is just a year old, and we are gaining momentum every single day in power generation and energy storage, but also in the cement industry. Because of industry show leads and website leads, we are surveying plants across the country almost weekly for life safety upgrades and system replacements.
Our service techs are doing a tremendous job in the field writing up life safety-focused discrepancies during inspections. Post-inspection, the Power Generation team partners with the regional sales teams to schedule client business reviews with those same customers, aiming to bring awareness, propose solutions and ensure their systems meet life safety and NFPA code.
On a personal level, I have started paying close attention to how the world looks at energy production in America. I have always enjoyed learning how things are made. To see this process first-hand is fascinating.
To see how fire protection plays a role in the overall scheme of things is even better. I learn something new every single day.
What are your favorite parts of your job?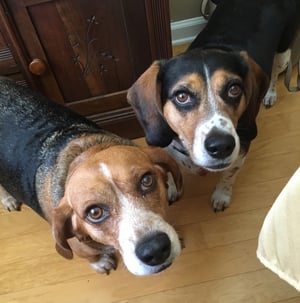 It is no secret that I am a people person and a "crazy dog lady" - see my pups Sophie and Sally (at right). Practically all of my favorite parts of the job have to do with people and relationship building.
In my current role in Power Generation, I thoroughly enjoy the interaction with ORR Associates in every part of the country, across most every department. I might be helping a salesperson in Florida set up a lunch and learn one minute, and the next phone call is to order Personal Protection Equipment for a field tech in Illinois to ensure he is safe on a job the following day.
I have a manager who is passionate about me meeting customers and seeing what we do first-hand. I get to travel moderately, which I enjoy. But my favorite days are when I have made positive impact on someone else.
Which of our Core Values resonates most with you, and why?
Wow, that is tough! I would have to say our value, Focused on Safety. In the Power Generation industry, my eyes have been opened to life safety. Some of the types of systems that our customers use and that our field service techs (and other associates) work on can be dangerous if we are not properly trained and equipped.
From classroom training to field training to ensuring proper PPE, ORR works hard to create a safe work environment for our associates as well as to empower us to take responsibility for our own safety and the safety of those around us.
Follow Your Passions As You #JoinORR
It's clear in speaking with Rhonda that ORR is a place to grow. Whether you're already in the safety industry or looking to make a leap to a more meaningful career, you can find your own path here.
Start here by exploring the current available positions at ORR.