An Internship is a great way for college students to gain first-hand insight into their desired field. It offers networking opportunities and hands-on experience in real-life working environments. Interns also bring value to their employers, offering fresh insight and new ideas. ORR Protection currently has two interns working with the corporate office in Louisville.
Ryan joined ORR in January 2023 as a Contract Administrator/Legal Intern working remotely from Michigan. He will be a senior at the University of Michigan in the fall working towards a bachelor's degree in history. His post-graduation plans are to enter the workforce for a few years before attending law school.
Gionna is a Louisville native who joined ORR in February 2023. She begins her senior year at Bellarmine University in the fall, pursuing a bachelor's degree in psychology with an emphasis in HR, plus a minor in sociology. Her post-graduation plans are to attend graduate school to obtain a master's degree in human resources and organizational development.
We prepared a set of questions to ask Ryan and Gionna about their experience working as interns at ORR Protection.
What was one learning objective or goal you had for yourself during your internship? Have you accomplished it?
Gionna: One goal I wanted to accomplish during my internship was to become a better listener. It seems odd but putting active listening into practice is the only way to improve it, and I haven't had the opportunity to work on that in a professional setting. By conducting exit interviews and phone screens, I've been able to improve that skill. I've also improved with pressing and asking questions to get clear answers or better feedback.
Ryan: One goal I had during my internship was to get more comfortable working in an office environment and I have accomplished this! During my time in Kentucky, I was able to work in the office nearly every day and sit in on meetings and gain other experiences in the office.
In what ways can you use what you've learned in your internship to enhance your experience in the classroom as you finish your degree?
Gionna: Just simply having the application of knowledge is beneficial. In class having real-world examples provided by your teacher are great ways to familiarize yourself with the content. I can see so many things beginning to connect from the classroom to this internship, so it'll strengthen my in-class learning greatly as I now have my own examples and experiences.
Ryan: The internship so far has taught me more about how I work and in what environments I get the most done. It's also reinforced the value of not putting work off for tomorrow when it can be done today.
How did your ORR internship match your expectations?
Gionna: It has honestly exceeded my expectations! Within my degree, I was on the fence about leaning towards the counseling side of psychology or the HR side of it. This internship has influenced me to go in the HR direction and focus on the next steps for grad school within this field of work. When I tell people that I'm not just doing administrative tasks like retrieving papers (like they portray interns in the movies), but actually sourcing and screening candidates, they're all shocked that I started doing that so early in my internship.
Ryan: It's given me the opportunity to help the company and complete my tasks but also the liberty and breathing room to make mistakes and learn from them.
How did your internship contribute to your overall career development and professional growth?
Gionna: It's contributing significantly to my career development as a result of having hands-on experience with HR-related tasks. This experience has also helped me decide what I want to pursue in the future. I was on the fence before about what exactly I wanted to do with my psychology degree. However, now I'm set on obtaining my master's in human resources and obtaining my SHRM certification.
Ryan: This internship has given me the chance to learn from and network with some fantastic people that I never would've met otherwise, and it's given me the opportunity to spend a few weeks living in an area I'm completely unfamiliar with.
What advice would you give to yourself going into this job again or to others considering doing an internship with ORR?
Gionna: Don't be afraid to mess up. My biggest concern was others seeing me make mistakes. However, I have to give myself a reality check – everyone knows I'm an intern and I'm here to learn. Also, when you make small mistakes it opens the door for opportunities to grow and learn.
Ryan: Go into it with an open mind and be ready to meet some outstanding people.
What makes you excited to come to your internship each day?
Gionna: The people and the work I do. Being in a workplace where you enjoy what you do makes every day exciting. I also feel like I am contributing to the company, not just advancing my own future career.
Ryan: The group of people I work with and the opportunity to do something useful each day.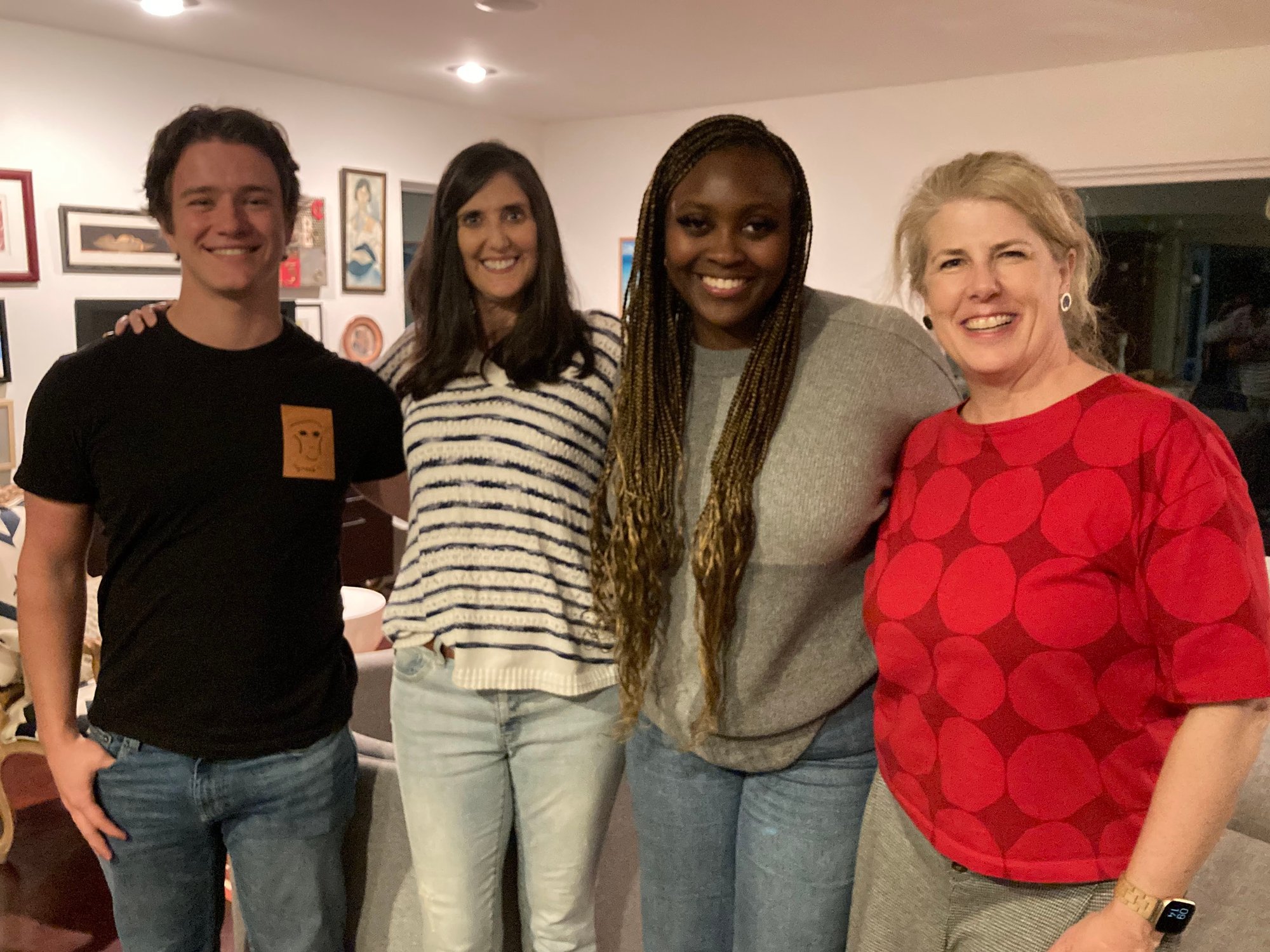 Left to right: Ryan, Danette (Ryan's supervisor), Gionna, Amy (Gionna's supervisor)