Nich grew up in an ORR family. His father started as one of the first technicians and now works in IT. Nich started at ORR while he was still in high school, helping move inventory to the new Louisville corporate office, and then after graduation joined ORR full-time as a warehouse associate. Recently, Nich has been transitioning from working as a highly trained field service technician into new roles, first as a project manager and now as a part of the engineering department. In this interview, we talk to Nich about his experience growing up with a father who worked at ORR, meeting his wife at ORR, and his own exciting career trajectory.
How did you get started at ORR?
Nich: "My official start date with the company was in 2004, just after high school. I worked in the main corporate office in Louisville as a warehouse associate for about a year and a half. I actually had experience with ORR prior to that; during my sophomore year of high school I helped the company move inventory from the old office in the west end of Louisville into the new corporate building. That was my first taste of working at ORR.
My father works for ORR as well. He's in the IT department and has worked for ORR since his early twenties. He started out as a member of first group of technicians in the company, working alongside five or six other associates. From his initial start as a tech he moved into design, went through electrical school, and finally landing in the IT department. Unwittingly, I'm following in his footsteps.
Our family's livelihood has been based around this organization. From the ORR-logo coats my dad would bring home to the different family events throughout the years, I grew up immersed in the ORR culture.

If parents are proud of their job and the company they work for, then their kids grow up with a respect for the company that's put food on the table and helped them in their lives. I wanted to work for the company where my dad was so I could have a little extra time with him. But I didn't know it would blosom into a career. At that time, just out of high school, I was just thinking, get a job, pay for gas, have money for food, and spend the extra on CDs."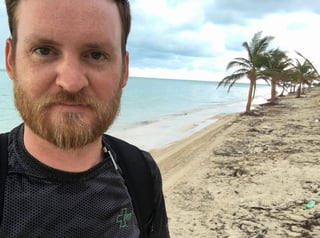 Nich in Turks and Caicos repairing damage from Hurricane Irma
Can you describe your current role?
Nich: "I'm in the middle of a transition right now. In 2005, I moved to Atlanta as an entry-level service technician for ORR Protection. In 2013, my wife and I moved from Atlanta back to Louisville. We got married and started our family here to be close to my extended family. Over the last year and a half, I've been working with project management as both a service inspector and programmer on bigger jobs. Now I'm transitioning into the engineering department as a designer."
You've been involved with ORR for most of your life - what do you think sets ORR apart?
Nich: "ORR is a growing company that's broadening its employee base and its reach in the industry, but it still has the feel of a family company. As an ORR Associate, you're with people that you've worked with for a very long time and are familiar with. That's the kind of environment I want to stay involved in and continue to help grow."
What about your time outside of ORR?
Nich: "I'm married to my amazing wife, Tracy, and we have a one and a half-year-old son, Benjamin, who is the center of our existence.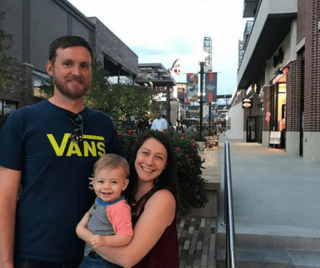 Nich, wife Tracy, and son Benjamin
It's crazy how you go from being a single guy working at the company when you're 21, traveling all around the country as a technician, to finding someone you love and having a family of your own. To me, that is when my appreciation for this company grew in a completely different way.

When I was single, I did my best to keep my boss happy and continue to have growth opportunities in the industry and travel to some cool places. Now, I work at a very high level in order to make my family proud and my company proud. I try to be that solid foundation for my family and make sure they're well taken care of"