A dedicated and experienced Field Service Supervisor, Brad has been a critical part of the Field Service team for many years. He has now taken on the role of mentor in addition to his other responsibilities, coaching three of ORR Protection's apprentices as they train to be Field Service Technicians. In this interview, Brad describes his experiences in the field - as well as an exciting hobby outside of work - and what makes ORR a unique place to work.
Brad: "My name is Brad, and I am a Field Service Supervisor. I have about eight people who report to me out of the field."
What does a typical workday look like?
Brad: "I have three associates that are in the Field Service Apprentice Program. I've been mentoring them, training them and trying to show them the ropes. We're going out and doing inspections on some sites, taking panels down safely, inspecting the systems, going through and dotting our i's and crossing our t's. Showing them how to do their daily jobs correctly is the majority of my typical day right now."
What is the mentoring program like?
Brad: "My apprentices had no fire alarm experience coming through the door, so it's been an adventure - you're teaching them all the ins and outs of the industry: from how ORR does business, to teaching a new skillset and craft. We're building something special here in Cincinnati, developing strong, solid techs working in a family atmosphere.
I try to do what I can to let them have as normal of a schedule as possible and limit their on-call time. I live near Columbus but I've been down in Cincinnati on special assignment since September focusing on these new apprentices. I hope my team recognizes that I'm working to protect their personal time, and they'll in turn go the extra mile to show that appreciation back. So far, it's working!"
What do you do outside of ORR?
Brad: "I'm married, I have two boys and I drag race on the weekends when our busy schedules permit. We typically race a couple of times a month during the summer. The boys are in school and they're into sports, so racing takes a back seat during their sports season which is all good. My wife and I make sure we're involved in our kids' lives and I do as much racing as I can with my work schedule. We're usually working somewhere between 50 and 60 hours a week, but we manage to make it work."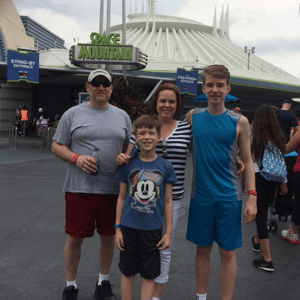 How did you get into drag racing?
Brad: "Drag racing for me started when I was in high school. I got a fast car, and I got a lot of speeding tickets. So my dad said 'we're going to build you a car that you can drive fast safely and legally.' It just turned into something I've done since I was a senior in high school."
What sets ORR apart?
Brad: "My stepdad is a senior level salesperson for the last company I worked for. When I joined that company I had come from a family business and the transition from a family business to a company that was all about numbers just wasn't a fit for me. I did my best to fit in, but it just didn't work out.
When ORR found me, I wasn't even looking to get into the fire alarm business, but they called out of the blue. The feeling that I got about the company culture, the people that I met, and the fact that ORR is all about safety, told me ORR had a different way of doing things.
From that point, my confidence grew to the point that I was totally sold on ORR. I knew this was where I belonged. Now, that same philosophy is reflected in my management style . I treat ORR like it's my own company in how I do things. I want to keep building that family atmosphere and camaraderie. We have created a culture where everything is more positive and helpful to people. I want to keep building on that - and they've allowed me to do that at ORR.