Forged in Fire: An Interview with Chad.
Chad is forged in fire in more ways than one. He started working in the fire protection industry nearly 20 years ago and stands as a great example of the internal growth and promotion afforded ORR Protection associates. He also uses fire as a self-taught bladesmith who competed on a national television show. We recently talked with Chad about his experiences.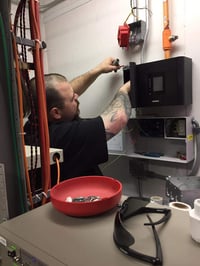 ORR Protection Area Manager, Chad

Why did you originally seek a job in fire protection? What drew you to the field?
I was finishing college with a degree in Lighting and Sound and starting my job search. A friend of mine's father worked for Borrell Fire at the time. They were looking for helpers and he mentioned that my wiring experience could be used in the field. So I gave it a shot, and the rest, as they say, is history.
So you were working at Borrell when it was purchased by ORR Protection. Tell me about your career path since then.
I was hired in 2004 at Borrell Fire. At that point, I was a helper and inexperienced. I continued working with as many technicians and project leads as I could, learning from them and picking up on the finer details such as programming and project management.
After a few years, I was selected to work on a government project with Lockheed Martin. It was a year-long project traveling to multiple states and countries. As a result of my performance on the project, I was promoted to project coordinator in Florida. In 2009, a position opened in Texas for a remote technician with an opportunity to help grow the area. I took the job and for the next seven years, I covered five states in the Gulf Coast region. I was promoted to service supervisor during my last two years in the area.
Eventually, I transitioned back home to Florida and into the project coordinator position. After a number of large projects on military bases and power plants, I was offered the position of area manager for the Orlando/North Florida market in mid-2020.
What does your job as area manager entail?
I oversee the Orlando/North Florida region. This covers everything from Central Florida to the Georgia/Alabama border, including the Florida Panhandle. I handle project management, service scheduling, and the day-to-day operations for the area. This also includes WO reviews, JIP reviews, subcontractor coordination, etc. But there is no way I could do all of this alone. I have a great team in Florida and we all work together on these tasks.
Why do you like working at ORR?
I like that ORR gives you the support and opportunity to learn and grow within the company. They care about you as an individual – you are more than just a number like you can be at other large companies. ORR cares about your safety and gives you the ability to improve and make a difference within the company. I am a great example of this and I'm grateful for the opportunities they have provided me to try new things and grow my career.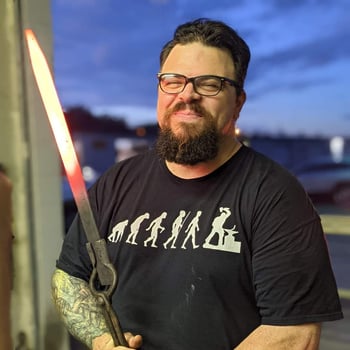 I hear you have a unique hobby. Tell me about your bladesmith skills and business.
I started teaching myself to forge knives in 2013. I'm a visual learner, so I would watch other bladesmiths and videos, trying to replicate the technique which is much harder than it looks. I spent a couple of years floundering until all of the fundamentals aligned and the time behind an anvil added up to a meaningful experience.
I started my company Black Hog Knives in 2016. I make culinary, camping, hunting, and utility knives. I also make custom commissions, such as Damascus blades, swords, and spears. I also teach classes for beginning bladesmiths.
You actually appeared on the History Channel show "Forged in Fire." Tell me about that experience.
I was contacted by a recruiting agent for the show and asked if I would like to compete. They had seen my work on social media and thought I would be a good fit. It sounded like fun and a great opportunity to showcase my skills. Unfortunately, I didn't win, but I had a great time. I loved meeting the other bladesmiths and judges, and it's an experience I'll never forget. It helped get my name out there and my business increased as a result.
Now is your chance to brag about your family and anything else in your personal life.
I have three great children that I love more than anything in the world – Lily, Merida, and Sean. They all like to come to watch me make knives when they can and I love spending time with them.
Also, I'm currently training for my first Master's Division Powerlifting competition. I believe that just because you hit 40 doesn't mean you have to hang it up!