Meet James, who is about to celebrate 20 years as an employee at ORR. James has worked in the fire protection industry for 40 years, and brings a wealth of experience, insight, and positive energy to the role. In this interview, James describes his tenure at ORR, how the industry has changed, and advice for anyone interested in joining the fire protection industry.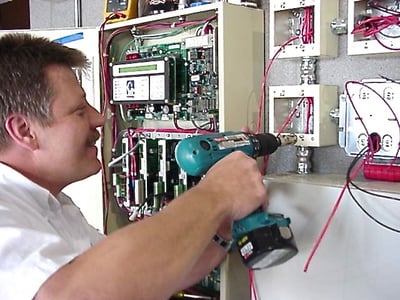 James at work
James: "I'm a Project Coordinator, but we do a little of everything. We do some service, but mostly we do new installs and remodels. We work in so many different types of job sites. So we go from one extreme to another. It's always a unique adventure."
How did you get into the fire protection industry?
James: "I started in the fire alarm industry back in 1980, so I'm an older guy, back when fire alarm panels used to be just two wires. I worked for a different company for almost 20 years. I met Bud Orr at an FSSA meeting, which is a fire alarm manufacturer meeting, and when it was time to make a change I got hired on at ORR. I've been with ORR now for 20 years. And 5 - 8 years ago, ORR bought the company I used to work for, so I've pretty much been with the same company now for 40 years."
What sets ORR apart?
James: "There's been lots of changes in the fire alarm industry. We get some unique opportunities. ORR has grown tremendously, and the opportunities are there. So it's up to you to go for them. ORR will help you every which way they can to do things, and they take care of you as family. It does get challenging traveling, but the office sees that and knows that. It's part of the game, is how I look at it. So I know it's going to be a great day no matter what they throw at me. I'll do the best I can for today, if you don't like it, I'll try again tomorrow."
The fire alarm industry has gone absolutely nuts. That keeps you on your toes - the industry is always changing. It's a constant learning curve, it never stops. It's like growing in life. You have children, and there is no book out there for being the perfect parent. So you learn as they grow and as you grow. You learn the changes. And your job is the same thing."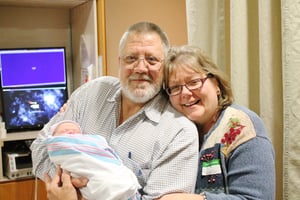 James, wife Carla, and granddaughter Adalynn
Has ORR supported you in learning new skills?
James: "We'll get a new job here and there where we're all green. Sometimes we'll get jobs where I haven't seen the system and we haven't gone to class yet. So then we'll get the opportunity to go to school, which makes life so much simpler. We work the with manufacturers and they work with you, modifications get made, and new things come out with better enhancements. You have to be serious, but don't take it too seriously, because then it starts affecting you."
Can you describe a typical day?
James: "Depending on the job situation, some jobs start at 6pm and end at 6am. Then all of a sudden we'll go back to another job that is 7am to 5pm. Our industry doesn't have true set schedule. It depends on when the business is open and when we can have access to each site.
When I am working near home, I try to get home by 7pm to spend some time with my wife. Because I do like her. In July we'll have been married 38 years. I'm a moldy-oldy and she's my high school sweetheart. I love her dearly and I'll do anything for her."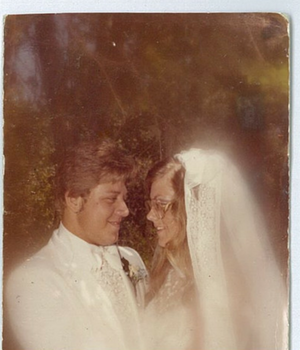 James and wife Carla at their wedding
Do you have any advice for someone who would like to work at ORR?
James: "Come into it with an open mind. Make the effort, but also realize that you're not going to learn everything in a day, or two, or even a year. You've got to be flexible. If you're not flexible it's going to be a long day. Be open to feedback. Every building is unique. Be willing to travel. Just be open to change. Because things are going to change.
We'll work with anybody. I do my best to work with anyone I can. There is so much out there to learn. Be willing to accept change and to learn. ORR is definitely not a cookie-cutter job. You always have new challenges: sometimes you call them headaches, sometimes you call them opportunities. You have to think outside the box. I may not be the sharpest tool in the shed, but I try like crazy.
I do love ORR. It's like life. Every day there's a little something different."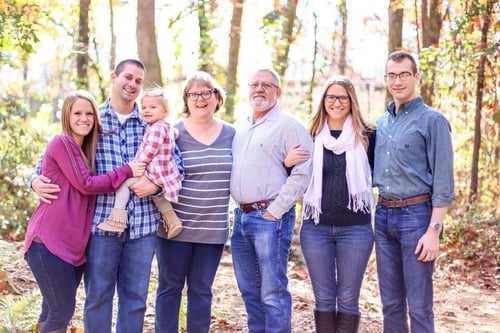 James and his family