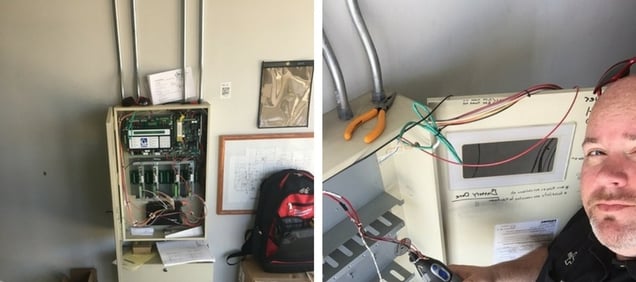 Large or small, every organization is only as great as the sum of its parts. ORR Protection is pleased to have the best of the best working for us and ensuring our moving parts stay well-oiled and high-performing.
From the Florida panhandle to the Golden Coast of California, ORR Associates work hard to provide peace of mind to business owners, building operators, and property managers.
Let's travel down to the palm-lined streets of Marianna, FL, also known as the "City of Southern Charm," to meet Tim, an ORR Protection Field Service Engineer (or Technician, as we call them), who lives and works in the area.
Do you mind sharing a little bit about yourself?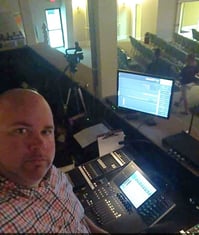 Tim: "To start, I'm 35 years old, and my wife and I have four kids. We live in a small town in Florida called Marianna. My family and I are active in our church. I serve in the tech booth there, running the sound and video equipment and making sure everything operates smoothly.
In the summer we spend as much time as possible at the lake. My sister has a lake house, and I take the kids almost every weekend - they love it."
How has ORR helped you grow professionally since you started?
Tim: "Right off the bat, ORR started providing training opportunities. I already have two trainings scheduled this year, as well as another vendor training. They're also very supportive in helping me get my NICETs. Other companies I've worked for leave it to the employee to do the NICET. Here at ORR they help any way they can.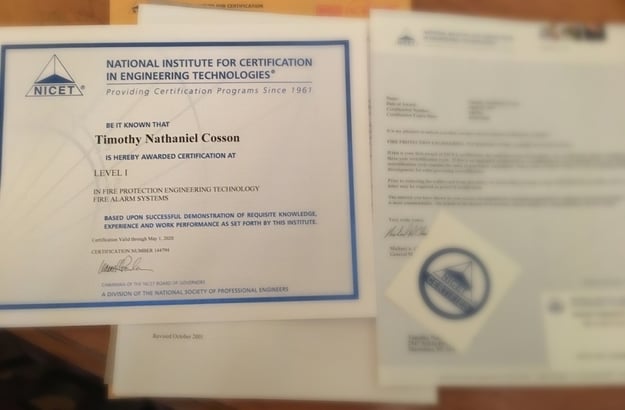 Level 1 NICET Certification
I think I've grown more in the six months I've worked for ORR than I did the last four or five years I worked elsewhere. From the training that ORR offers, the certifications they help us achieve, and the broad range of equipment we get to work on, it's a great fit for someone like me who likes to constantly be learning. My goal is to get all four levels of NICET in fire alarm and suppression."
What's a typical work day like for you?
Tim: "I'm a remote tech, so my days start with a drive to the site I'm working on. A typical day is full of inspections. Depending on the size of the facility, I may be able to complete three or four small sites in one day or I may spend a day or two on one large site.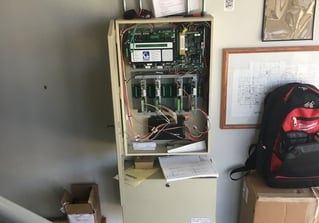 During an inspection, I test all the fire protection devices. ORR provides the equipment, and I test smoke detectors, check pull stations, verify relays shut down like they're supposed to, and make sure all the horn strobes work. If anything fails during my inspection, I'll come back in to service it and make any repairs to get it back up to code.
Since I'm a remote tech, I cover a large service area. I might be in the middle of an inspection and get an emergency service call and have to stop what I'm doing to take care of it. After taking care of the emergency I'll come back and finish the inspection."
What are some things you've learned since the start of your career?
Tim: "If I wanted to stay in this industry I knew I needed to do one thing: always be growing. Almost every year there is something new we work with and new technology to learn. I've allowed myself constant room for growth. If you're set in your ways and don't want to learn anything new, then you probably shouldn't get in this field. I enjoy absorbing new information and challenging myself."
What sets ORR apart in the industry?
Tim: "ORR realizes that their technicians keep the company going. They make sure we're taken care of by ensuring we have everything we need to do the job. They want us to be happy. I've never worked for a company that made me feel so welcome and so part of the team."
Do you have any advice for those looking to work at ORR?
Tim: "Get on board as fast as you can! I've told all my friends that I've never worked for a company better than ORR. They have high expectations but they give us the support and training we need to do our jobs, and then they let us do it. We're more than just employees doing a job - we're a trusted part of the family."
---
Thanks Tim for taking the time to share your experience as a Tech at ORR.
We're looking for more Field Service Techs just like Tim across the country. Visit our Careers Page to find positions near you.