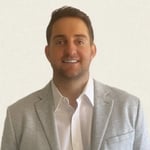 Austin was working as an assistant golf pro at a golf course in Canton, Georgia, when he met Barry. Barry worked in sales for ORR Protection and liked what he saw in Austin. He convinced Austin to apply for the national accounts coordinator role open at ORR and the rest, as they say, is history.
Austin made an impact on the organization from the get-go. For four and half years, he managed upwards of 12 national accounts for ORR. Then, he moved to work on a team focused on service renewals for testing and inspection contracts for all of the company's customers, not just national accounts.
"I was in that position for about a year," said Austin. "I oversaw the entire process – I put together the proposals, worked with each of the regional operational teams on pricing, and then worked with the customer to deliver the quotes and get the work started. We had customers who hadn't received updated pricing in quite a while. So, we were able to grow our revenue and make an impact on the bottom line. And I really enjoyed that work, it was a lot of fun to do. I had the opportunity to work with each of our operations managers in the process, as well as our regional account managers and sales team. It was a complete group effort."
Austin's contributions continued to be recognized when in early 2023 he was approached about leading the account managers within ORR's new Service organization. Austin now oversees ORR's regional service account managers and key account managers.
"This new organizational structure is more cohesive and efficient for both us and our customers," Austin explained. "Previously our service business was divided into different regions. Each region managed and had its own process for testing, inspecting, and service. So you would go through an ops manager, an area manager, and a service coordinator to get an answer on something. Now everything's under one umbrella. It has eliminated a lot of the bottlenecks our customers were experiencing."
"This realignment has made it easier for us to work as a team across the country instead of just being successful in the Southeast or just being successful in the Northeast," Austin continued. "Now we're applying the same methodology across all of ORR, and it's a standardized system. So you have teams now that just focus on what their role is, and they're experts in that field. For example, our service coordinators are just working on scheduling service. Our key account managers and our regional account managers ensure that we're completing all the PMs on time, getting reports and invoices out, providing opex budgets, and conducting overviews to make sure that nothing's getting past due. It's more specialized now where everybody has one role they're working on. In the past, you had folks wearing multiple hats and doing multiple jobs."
Austin said he appreciates the company's willingness to listen to our customers and make changes based on their feedback. It's a sign of a healthy company. "ORR's expectations are high and our customers' expectations are high. I like having the opportunity to work to find a solution to issues."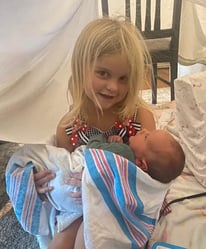 Austin's affinity for hard work comes from his upbringing. He was raised on the farm he and his family still live on. His dad was a chicken farmer and Austin spent many years helping with the family business. And family is still his top priority and motivation. He and his wife Jenna have two young children, a daughter Everleigh and a son Ace. They have some cattle on the farm and he recently added Christmas tree farmer to his resume.
"We have about 450 Christmas trees and maybe 150 of them are mature. 2021 was the first year we were open for families to choose and cut their own trees. We try to add 50 to 100 trees yearly, depending on how busy we are. The whole reason I even planted Christmas trees was for my children. Eventually, if they ever wanted to take it over, I'd love for them both to stay close to home."
This love of family is also what Austin loves about working at ORR. "ORR is a family environment. We support one another. If you have something going on in your personal life – if you have a sick child, a tee-ball game, or a graduation, the company supports you and wants you to be at those special moments in your family's life. I know a lot of employers that don't operate in that way. Now, it's going to be hard work and there's a lot of work and a lot is expected, but it's a family environment and there is a supportive culture behind it."