Our Different and Better Story
When I was young, I used to go to the office with my dad on Saturdays. Sometimes I was put to work, sometimes I played in the warehouse (we would never let kids play in the warehouse today!). What I really remember was the way he interacted with the people he worked with. He knew everyone's name and something personal about them. He was genuinely interested in them. As I grew and became interested in learning the family business I began to notice the way my dad carefully weighed each business decision based on the effect it would have on the people he worked with. I soon realized that although our family name was on the sign out front, this company didn't belong to us – it belonged to the people who worked there.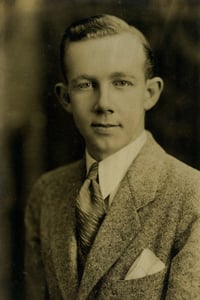 Clark Orr, Sr.
I'm humbled to be the third generation of our family to work at ORR. My grandfather started the business over 70 years ago with a desire to deliver products that would keep people safe at work. And still today, the heart of ORR is people. We protect people with the products we sell, serve people of the communities we live in and highly value the people who work with us. Our heart for people is what makes ORR different and, in my opinion, better than our competitors.
Protecting People
My grandfather began by selling industrial safety products out of the trunk of his Packard in 1948. He saw a need and knew he had products that could make a difference in people's lives. Over the years we've provided safety products to hundreds of thousands of working men and women around the country. We've also expanded the business to include fire suppression systems and environmental protection. With each arm of our business, the health and safety of people is at the core.
Serving People
Serving people and giving back to the community we live in has been a core value for both my family and ORR Corporation for as long as I can remember. There isn't a week that goes by that an ORR Associate doesn't have the opportunity to give or serve. Through our time, talents and giving we support meaningful organizations like Make-A-Wish, Habitat for Humanity, Ronald McDonald House and the American Red Cross. We also partner with a number of local charities who are making a difference right in our very own neighborhoods.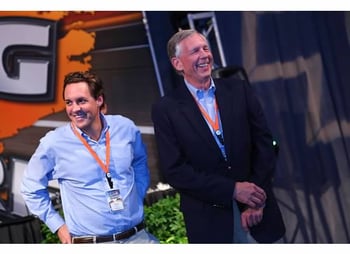 Clark and Bud Orr
Valuing People
The importance of treating everyone with respect and fairness is at the heart of the ORR culture. The passion for taking care of Associates and customers started with my grandfather and was passed to my dad. That passion is alive and well today and is what makes ORR a great place to work. We're a family – we're coworkers, yes, but we're more than that. We care for each other. We cheer for each other during the good times and help each other during the tough times. And many of us have literally grown up together at ORR. I've worked here full time for 17 years but I'm a relative newcomer compared to a number of folks who have been here for over 30 years. That's rare these days in most businesses, but not here. ORR is made up of great people who love what they do and have a great deal of respect for one another.
A Glimpse of the Future
Over the course of the past 70 years, much has changed yet much has stayed the same at ORR. I imagine we'll say the same thing seven decades from now too. While products, systems and business ventures may evolve, protecting, serving and valuing people will always be at our core. ORR Associates are proud of our mission to Protect People, Property and the Environment. I'm proud of the way we do it – with a culture that creates a healthy work environment, helps people grow and creates value for our customers. This company is different and that's what has and will continue to define who we are.