Corrosion in dry pre action sprinkler systems is more common than you might think. In many data centers and telecom buildings, the de facto standard has been to install a pre action sprinkler system, yet the concern about corrosion-related failures continues to grow. The fire protection industry has been working over the last few years to understand this problem and provide solutions to corrosion.
A Real Life Example—The Growing Problem of Corrosion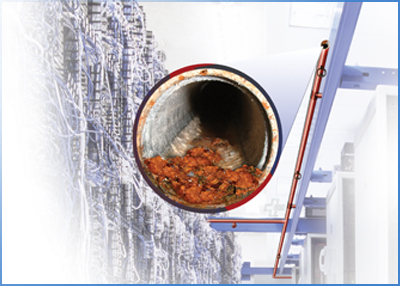 In 1995 the Allied Signal Company in Tempe, Arizona (now part of Honeywell) experienced a serious failure of a sprinkler system in its Worldwide Computing Center. At the time, Allied Signal was Arizona's largest private employer. A pinhole leak formed in their sprinkler piping in the computing center, and that leak served to shut down all of the company's manufacturing operations in the Eastern United States for six hours. That productivity loss cost them $16 million.
After the fact, it was discovered that the leak was caused by bacteria in the water contained by their sprinkler system. Furthermore, it wasn't just a single system in the computing center, all of the different sprinkler systems throughout the Allied Signal campus had bacteria and were filled with corrosion. These events led to a lawsuit against the City of Phoenix, AZ where the city was sued for supplying water that had bacteria in it. More about this case can be found here: AlliedSignal, Inc. v. City of Phoenix
Why and How Did This Happen?
The Allied Signal Company later discovered that a large percentage of the damage was due to a special type of corrosion that we now know as Microbiologically Induced Corrosion, MIC for short. The cost to replace the entire sprinkler system was roughly $25 million.
Replacing a system in an existing building comes at a much higher cost than putting a system in a brand new construction project—sometimes it can be three to five times the cost. While a pinhole leak sounds like a drip of water here and a drip of water there, the reality is, in a wet pipe sprinkler system where the pipes are charged with water, the leak is actually more like a stream of water flowing out of this little pinhole, and that's what happened in this case.
Corrosion is Not a New Problem
The U.S. electric power industry spends $5 to 10 billion dollars a year dealing with the problem of corrosion. Fifty percent of all outages in steam generator power plants are caused by corrosion. In fact, 10 percent of all cost of electricity generation is tied to corrosion prevention measures. Some industries have people whose full time jobs are to mitigate corrosion. In the fire protection industry, we expect our sprinkler systems to last 25, 30, maybe even 50 years.* Over time, corrosion happens in any metal pipe system, and the fire sprinkler industry is really just starting to address the issue.
A Bigger Problem than Most Expected
The fire sprinkler industry is starting to understand the weight of the corrosion problem. FM Global Insurance (Factory Mutual) has been studying the problem of corrosion over the last 15 years. In one of the studies conducted, samples of failed sprinkler systems were collected. It was determined that corrosion was the fifth leading cause of sprinkler system failure in their insured properties worldwide. Another set of data they collected looked at how often the specific bacteria that we call MIC was a part of the corrosion problem. In 40 to 60 percent of the cases, MIC was present.
ORR Protection will host a Lunch & Learn training program at your location on the topic of corrosion in mission critical dry and preaction sprinklers. We look forward to the opportunity of educating your team, and we will provide lunch! CLICK HERE.
If you suspect your system may be succumbing to the effects of corrosion, schedule a site survey with ORR Protection Systems today. We will help make sure your systems are ready to perform when called upon. CLICK HERE.
* Source: Printed with permission, InTech Magazine Online Published October, 1998. www.isa.org/intech