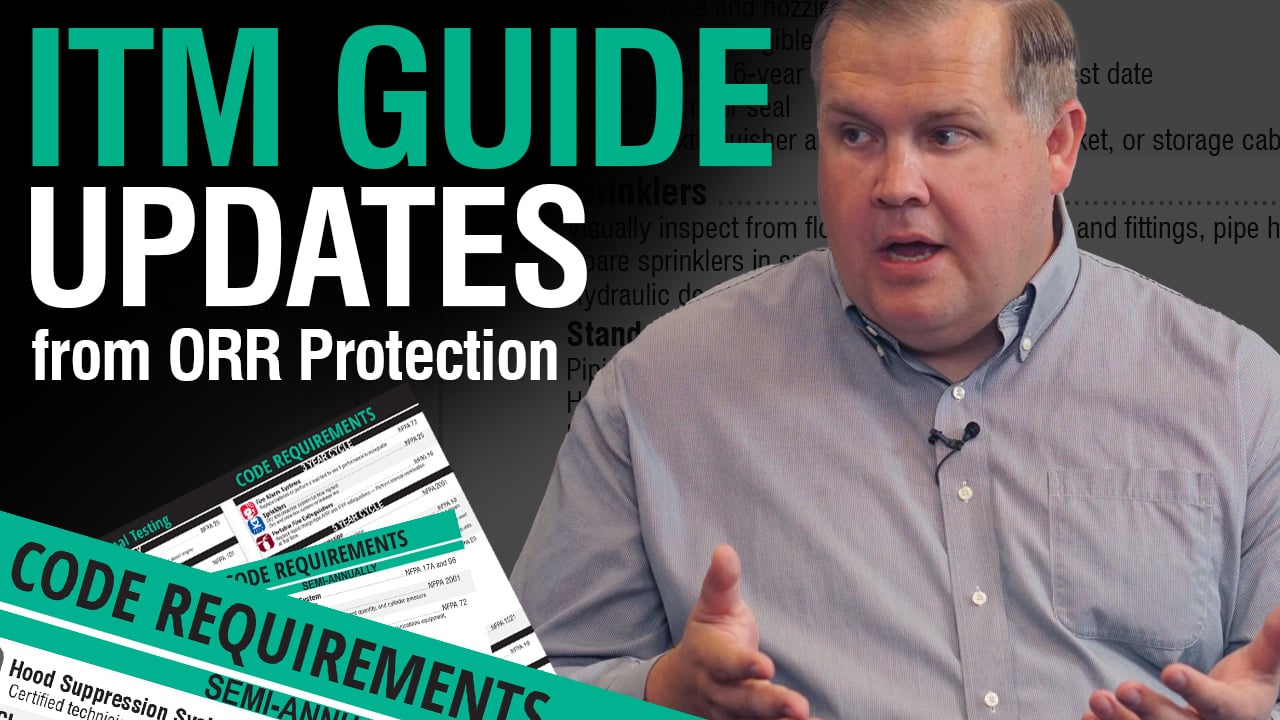 Visual inspections and functional testing of fire protection systems are an essential part of operating a facility that is safe, well protected, and up-to-date. Daily, weekly, quarterly, annual, and multi-year inspections are essential for protection and are also required by the NFPA codes.
To make following the inspection, testing and maintenance code requirements easier, we outlined the most common requirements in our brand new Inspection, Testing and Maintenance Guidebook! Use our condensed guide to ensure you are complying with NFPA's required frequencies.
Visual Inspections
A visual inspection will often reveal the state of a system, simply by examining it for key indicators of system health. The NFPA defines an inspection as "a visual examination of a system or portion thereof to verify that it appears to be in operating condition and is free of physical damage (NFPA 25)."
Example: A daily or weekly visual inspection of sprinkler and/or standpipes' valves, valve components, and trim inspections. This inspection includes examining the control valves to make sure they are in normal position, tamper switches or locks are in place, examining accessibility, and looking for leaks.
Functional Testing
Some malfunctions, errors, and operational disruptions cannot be found through a simple visual inspection, so they must be unveiled through a functional test of the system. The NFPA defines testing as "a procedure used to determine the operational status of a component or system as intended by conducting periodic physical checks, such as water flow tests, fire pump tests, alarm tests, and trip tests of dry-pipe valves (NFPA 25)."
Example: An annual test of a sprinkler system's master pressure reducing valves (full flow).
Code Requirements for Visual Inspection and Functional Testing
Each fire protection system has a specific set of NFPA-required visual inspections and testing procedures to make sure they are operational and functional.
Code requirements included in the Guidebook:
Details about how each of the following NFPA code applies to your system are included in the guidebook.
| NFPA 72 | NFPA 25 | NFPA 17A | NFPA 10 | NFPA 17A and 96 | NFPA 2001 | NFPA 101
If you would like to know more about any of these codes or an NFPA code not included on this list, reach out to a fire protection expert on our team.
Download the Guidebook
If you're in charge of fire protection at your company, or are responsible for running tests and inspections, this guidebook is for you! We are here to help you make sure you have all the knowledge and tools necessary to keep your location safe and protected. Take the first step and download the Inspection, Testing and Maintenance guidebook today!
References
NFPA (2017) Standard for the Inspection, Testing, and Maintenance of Water-Based Fire Protection Systems, Sec. 3.3.1. Retrieved from: http://www.nfpa.org/codes-and-standards/all-codes-and-standards/list-of-codes-and-standards/detail?code=25