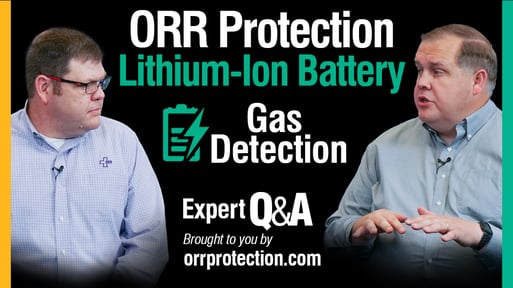 Join ORR Protection experts Lee Kaiser and Aaron Wille as they discuss Lithium-Ion battery safety and fire suppression systems for battery energy storage systems, like those found in data centers.
In this part of the series, our experts will explore the topic of gas detection and answer the following questions:
Which level of gas detection would typically turn the emergency exhaust fan on?

LEL is the only form really required by NFPA 855, not necessarily off-gas detection?
Transcript
You're typically turning on that emergency exhaust fan. I know we've talked about lithium-ion off-gas detection, like Li-on Tamer, and we've talked about RKI gas detection. Which level of gas detection would normally turn the emergency exhaust fan on?
It's important, you mentioned the two and there are two levels. There's off-gas detection, which should be used to shut down the battery management system to try and stop the event in its tracks, and then there's the RKI or LEL lower explosive limit gas detection for explosive gases. That should be the input to turn on the exhaust fan system so that as you approach the lower explosive limit where things can go boom, you're already ventilating so that you don't ever get to that spot. So, it doesn't have the chance to go boom.
That later level RKI or other traditional LEL gas detection is what's really required in 855, not necessarily the off-gas early warning type.
Exactly. The off-gas detection isn't required at this point but, because it's an explosion prevention system, you've got to have something that acts to turn it on and the energy code isn't just going to allow you to let the fans run. You got to have a thing to trigger the need for the fans and that's going to be a gas detector, like the RKI units.