It's a good thing fires are less frequent than the number of times power goes out. Even in the most metropolitan, well developed areas the power goes out with relative frequency. To combat this, many homes and businesses have installed emergency generators on site.
In the case of business, losing power can cost you. Lost productivity, revenue, or even data are good reasons business choose to install emergency generators. If your business operations possess the following qualities, it may be considered mission critical and an emergency generator may be a good investment.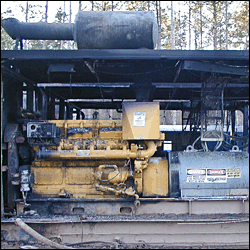 Emergency Generator Mission Critical Qualities:
It has a High Value of Business Operation
You stand to lose significant income

It Has Strategic Existence
Your Product or Service Would Become Unavailable Without It

People Depend on It
Your Customers/Employees are Impacted

Regulatory Compliance is Impacted
You May Suffer Expensive Fines or Time in Jail
Unfortunately, the story doesn't end there. Emergency generators, while essential to mission critical operations, are frequent sources of fires. NFPA reports that between the years of 2001 and 2007 the estimated average non-residential structure fires caused by generators was 333 per year causing an annual average damage of $58 million (Hall 2013). Because of the potential for generator fires, many building owners choose to install fixed fire protection systems to limit the damage when their generator does catch on fire.
When a generator operates, the surfaces of the engine and exhaust system can have temperatures that exceed the auto-ignition temperature of the fluids used in the generator. When those fluids leak or spray onto hot surfaces, e.g. diesel fuel, engine oil, they can cause a fire that can be very difficult to extinguish by sprinklers alone. Add to the equation the presence of oxygen from heavy ventilation and open dampers to promote air flow, and you have a high risk situation. Generator fires can threaten the life safety of occupants within the building, but are more likely to disable the backup power system to the point that it cannot support the emergency power needs of the facility.
With the dangers known, what type of fire protection can you put in place to limit your risk and keep your equipment safe? The least amount of protection you can choose would be to follow the building code. Most major building codes exempt generator rooms from having sprinklers, but instead require an automatic detection system. Besides detection, fire codes require a portable extinguisher be installed in the generator room. Many building owners who have generators that support mission critical operations choose to do more.
Looking to learn more about how to choose the right partner for your Power Generation fire protection?
Generator Room Fire Detection: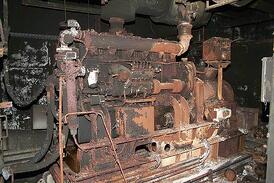 Most fires caused by generators are fast flaming fires, so the detection technique is to look for heat or flame caused by the fire. Smoke, while present, will not be a good first indicator of a fire. Heat detection is the first consideration. Heat detectors are reliable and economical, but when businesses consider the mission critical nature of their generator equipment, they generally add some form of early detection. Many generator installations use optical flame detectors for automatic fire detection. Flame detectors quickly identify the presence of a flame. Some facilities elect to couple their automatic detection method with their security system and install a Video Image Smoke Detector (VISD) for fast detection and video images to know what is occurring within the room before sending personnel in to address the problem.
Generator Room Fire Suppression:
Four factors primarily play into the selection of a suppression system for a generator room: ventilation of the space for cooling and combustion air, flammable/combustible liquid storage and delivery, storage of Class A combustibles in the room, and equipment tolerance to non-fire damage to due to suppression system operation. Historically several system types have been selected including sprinkler, AFFF foam sprinkler, carbon dioxide, clean agent, and water mist.
In recent years, water mist has become the preferred method of protection for both indoor generator rooms and outdoor generator enclosures. Water mist systems are FM Approved for generator protection and have proven themselves through fire testing. They address concerns about ventilation and the inability to make generator rooms airtight. In most cases they can extinguish pool fires of diesel fuel associated with storage and delivery systems. Finally, they won't damage any of the generator equipment when they discharge.
If you need assistance with choosing the right fire suppression system for your emergency generator room, ORR's experts can help.
References
Hall, John (2013) Non-Home Structure Fires by Equipment Involved in Ignition. Retrieved from: http://info.orrprotection.com/hubfs/Blog%20Resources/Non%20Home%20Structure%20Fires%20by%20Equipment%20-%20John%20Hall%20-%202013.pdf