We are announcing UTC (United Technologies Corporation) is uniting three major fire system brands; Fenwal Protection Systems, Chemetron Fire Systems and Kidde under one name; Kidde Fire Systems.
"We are sure that some of our customers will want to know how this news will impact them," said Ray Aldridge, President of ORR Protection Systems. "The fact is, it won't. This is simply a name change and will be a seamless experience for current Fenwal, Chemetron & Kidde customers."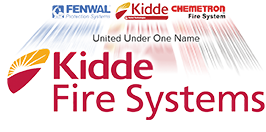 How will this impact me as a current Fenwal customer?
Current Fenwal customers will only experience minor branding changes (i.e. fire panel colors, logos).
In fact, since the mid-1990's, the Kidde and Fenwal panels have been manufactured using compatible components and firmware.
Where do I go for service?
ORR Protection Systems will continue to service your fire protection systems just as we have in the past.
Does this affect my system warranty?
There is no impact on your warranty, either for your fire system(s) or its components.
Can I still get parts and for how long?
Since all the parts and pieces are compatible, any new installations, repairs or updates will be completely unaffected by this name change.
What if I need help right away?
Please call your Account Manager or call 855.677.6003.
CLICK HERE if you would would rather reach us electronically.
For more information on the Fenwal, Chemetron & Kidde name change, please visit: orrprotection.com/Manufacturers/Fenwal-Name-Change.
ORR Protection Systems Information
We areMission Critical Fire Protection Experts

o Design, Install
o Inspection, Testing & Maintenance
o Nationwide Emergency Service

We are Kidde & Chemetron Experts with over 25 years of Experience