Selecting the Right Nitrogen Generator
Selecting/Specifying a Nitrogen Generator
STEP 1: SELECT A NITROGEN GENERATOR
To ensure the nitrogen generator is adequately sized, the following information is
required
:
1) The total cumulative size of all dry/preaction sprinkler systems
2) The size of the largest single dry/preaction sprinkler system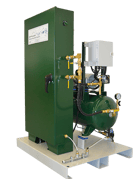 3) The total number of dry/preaction sprinkler systems

With this information an ECS nitrogen generator can be selected. Small to medium projects can generally be supplied with a pre-engineered nitrogen generator that includes an integral air compressor (PGEN-5/10/20). Projects with a larger cumulative sprinkler system capacity should be supplied with an engineered stand-alone nitrogen generator paired with a separate air compressor (PGEN-30/40/50/60).
STEP 2: SELECT A VENT
To facilitate the removal of oxygen, ECS utilizes the patented "fill and purge" breathing process which requires installation of a vent to control gas discharge from the fire sprinkler system. One (1) vent is required on each dry/preaction fire sprinkler riser, with two available options:

1) ECS Protector Manual Vent (PAV-D)
2) ECS Protector Dry SMART Vent (PSV-D)
The PAV-D is a mechanical device that is closed manually once the system nitrogen concentration has been verified at 98% or greater and represents the most economical approach to oxygen removal. The PSV-D includes an electronic sole- noid valve that closes automatically once the desired nitrogen concentration has been reached and is preferred in applica- tions that value automation or minimal human intervention.
STEP 3: SELECT MONITORING EQUIPMENT
Engineered Corrosion Solutions believes that a true corrosion management system should be monitored for performance to ensure that fire sprinkler system piping is properly protected against oxygen corrosion. ECS offers multiple monitoring options to pair with a nitrogen generation system: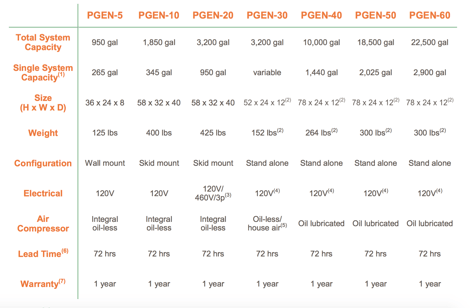 NOTES:
Single system capacity based on 30 min. fill requirement of largest single sprinkler system at 40 psi; a secondary air compressor with normally closed isolation valve can be used to meet fill requirement for larger individual systems

Size and weight of nitrogen generator only, does not include separate air compressor

120V power supply required for nitrogen generator, 208 or 460V/3 phase power supply required for compressor

Power requirement for stand alone nitrogen generator only, does not include separate air compressor power requirements, options include: 200V/230V/460V 3 phase

PGEN-30 designed to receive air from oil-less compressed air supply only

Lead time refers to time from order receipt to shipment from ECS facility, does not include shipping time

Per ECS terms and conditions