ARIES aptly conducts fire response events from detection and alarm to suppression system release. Excellent for small to medium sized applications, the ARIES provides pre-planned, sequential system response or immediate system actuation, depending on the requirements of the application.The flexibility of the ARIES panel provides the features and expandability to make it suitable for almost any fire alarm suppression control application. It easily scales up to a 32 node peer-to-peer network for large system installations. The ARIES interfaces with the SmartOne® family of automatic initiating devices and monitor/control modules, as well as all types of fire suppression systems.
Features:
Signaling line circuit for up to 255 devices without device restrictions
Triple-R protection against unintentional extinguishing system activation
Reverse compatible with a large universe of SmartOne® sensors and modules
Distributed intelligence to sensor level
Easy to read 80-character LCD display
USB device port
Internet accessible
ARIES NETLink Control Panel -The ARIES NETLink is a fully featured and cost competitive multi-loop, intelligent, addressable and networkable Fire Suppression Control Panel designed for commercial, industrial and high tech facilities.The ARIES NETLink is the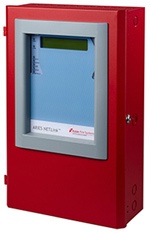 technologically most advanced multi-loop control unit available to the industry today. Dependability and maximum protection against inadvertent release are hallmarks of Kidde panels. We build in safeguards so that no single component failure or combination of abnormal operating conditions, including main-microprocessor failure is allowed to result in accidental release activation.At its core, the ARIES NETLink is a suppression panel; approved for use with Clean Agents, CO2, Wet and Dry Chemical Systems as well as water based systems such as Water Mist, Water Deluge, Pre-action and Foam. It combines the high quality, system reliability, and flexibility required by modern commercial, high-tech and industrial applications in an aesthetically pleasing and physically robust package.
Features:
Reliable and dependable suppression control that features Triple-R redundancy
Expandable from 3 to 8 SLCs (2,040 addresses)
Networkable up to 64 nodes with 130,560 addresses acros
s network
Event-Output-Control programming
High level serviceability and diagnostics
Backwards compatible with installed base of SmartOne devices, network and suppression releases (control heads, solenoids, initiators)
Network supports both copper wire and fiber optic cable