SigniFire VideoFlame, Smoke and Instrusion Detection System
SigniFire is a turnkey video smoke detection solution. The state-of-the-art, camera-based SigniFire video smoke detection system, visually detects the presence of flame or smoke at its source, independent of airflow in the area.SigniFire represents a critical advantage for early warning fire detection, especially for challenging environments and open area venues.
SigniFire IP Smoke Detection Camera
The SigniFire IP camera combines the enhanced resolution and picture clarity of a standard network camera with built-in flame, smoke and motion detector capabilities. The FM-approved technology detects:
FSM-IP Network Video Recorder
A scalable, network video recorder with video management software, each FSM-IP is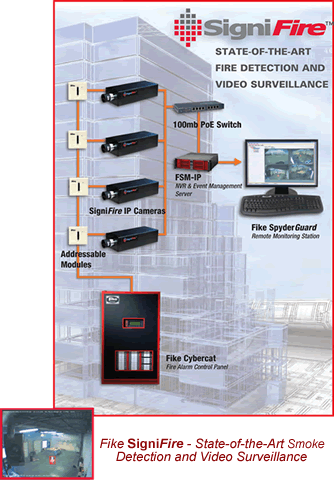 designed to support up to 32 SigniFire network, flame detecting cameras:
Constantly records video streams on to internal hard disk customizable storage space to meet application needs.
Provides monitoring of live videos.
Maintains an event log for all alarm conditions .
Dispatches alarms and videos to remote locations.
Network management interface for configuration and maintenance.
SpyderGuard Flame, Smoke and Intrusion Detection Monitoring
SpyderGuard is a state-of-the-art monitoring, investigative and administrative tool designed to seamlessly access multiple FSM-servers.SpyderGuard combines physical security with early warning flame and smoke detection:
Access multiple FSM-IP or FSM-8 units at a time.
Integrates building, site and floor plans, as well as 3rd-party systems.
Remote monitoring over the Internet.
Playback of archived events.
SpyderPanel Emergency Response Video Interface
SpyderPanel is a touch-screen panel designed to provide security personnel with a simplified user interface for quick response to an emergency situation. The intuitive SpyderPanel does not require any training to review alarms, video feeds, building plans or vital site information.
Can existing security equipment be used to protect the facility from fire? Yes...with FSM-8
A part of the SigniFire family, the FSM-8 is a DVR-based solution for flame, smoke and intrusion detection, designed for use in places where analog cameras are already in place. While the result is a lower image resolution, the FSM-8 uses the same algorithms as SigniFireand is capable of detecting and alarming on a variety of events. The FSM-8 can process the video signals from up to 8 analog CCTV cameras and can be used in conjunction with the SpyderGuard and SpyderPanel software.