The SHP-PRO® Fire Detection and Fire Protection System
SHP-PRO is THE reliable, conventional clean agent fire suppression system for smaller applications. Unmatched in the industry for sheer versatility and ease of installation, this single-hazard control system boasts incredible power and can be easily configured for use within a wide range of industries and clean agent fire suppression applications:
High Value Asset Protection Clean Agent clean agent fire suppression and Inert Gas Fire Protection
Building/Facility Protection Fire Sprinkler and Sprinkler Pre-action Deluge
Control of BOTH fire sprinkler pre-action / deluge and clean agent clean agent fire suppression systems
Industrial applications Carbon Dioxide clean agent fire suppression systems, Foam suppression systems, and Fike's premier water mist system, Micromist.
Economical Linear Heat Detection which is designed for use in harsh environmental conditions, where maintenance access is in a hazardous area and where detection must be in close proximity to the hazard.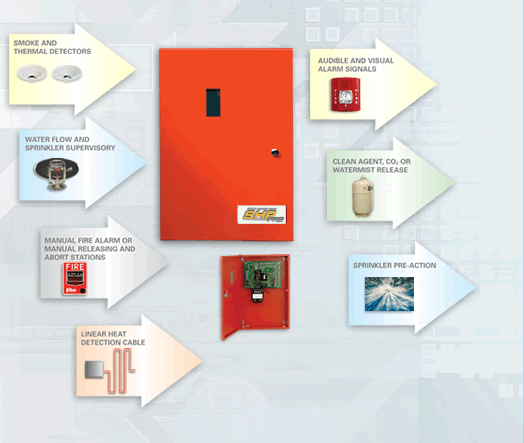 That's COMPLETE FIRE PROTECTION using ONE economical clean agent fire suppression Panel! Plus, the versatile SHP-PRO clean agent fire suppression system is built for easy installation and maintenance. Fike's SHP-PRO is the leader in conventional fire detection and control.
Look for all the following features and more in your conventional SHP-PRO fire detection/clean agent fire suppression system:
Configurable via dip-switches
Disable Mode for audible circuits, release circuits, and relays
Selectable 120 or 240VAC power input
Optional batteries for up to 90 hours of standby power
Removable door for easy installation
Up to two Style B initiating device circuits capable of sequential alarm, cross-zone, or single detector release operation with an overall system capacity of 50 detectors (25 when both releasing circuits are used)
Three Style B initiating device circuits capable of monitoring closed contact devices
Optional Class A module that converts all five initiating device circuits to Style D wiring operation.
Three Style Y notification appliance circuits rated at 2.0 amps each
One Agent Release circuit with maximum of 6 ARM III's and/or depending upon model of SHP PRO ordered one solenoid release circuit which can activate one 24V or two 12V solenoids
Alarm and trouble resound