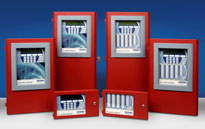 The FenwaFenwalNet 6000 Intelligent Fire Alarm PanellNET 8000-ML is a fully featured and cost competitive Multi-Loop, Intelligent Addressable, Networkable, Expandable, Fire Alarm- Suppression Control Panel designed for commercial, industrial, high tech and heritage facilities that include fire detection, alarm notification and suppression as part of their overall risk management strategy. At its core, the FenwalNET 8000-ML is a suppression panel; approved for Clean Agents, CO2, Wet and Dry Chemical Systems as well as water based systems such as Water Mist, Water Deluge, Pre-action and Foam.
Features:
Maintains use of Event Output Control (EOC) programming – enables complex releasing sequences
Advanced troubleshooting and diagnostic tools - ground fault detection by circuit
Provides migration strategy for installed base - retrofit kit
Power supply behind hinged main board reduces control unit footprint and enables easy access
Terminal blocks plug-in / plug-out for easy service
Multiple knockouts enable efficient wire routing
2-Tier and 3-Tier enclosure options
On-board SLC switches enable quick disconnects
Release circuits feature built-in NFPA-72 compliant maintenance switches
Class A and B wiring on SLC, NAC and ARC – requires no additional hardware
All the above with a 36-month warrantyunsurpassed in the industry
Integrates seamlessly with HSSD, ASD and LHD detection devices on SLC loop - ability unsurpassed in the industry; lowers overall cost of system
The FenwalNET 6000 Intelligent Control Unitis a fully featured and cost competitive product designed for mission critical facilities that include fire mitigation as part of their overall risk management strategy. The FenwalNET 6000 is fully compliant with all requirements of the new UL 864, 9th Edition of Underwriters' Laboratories.
Features:
Internet accessible—view current events, event logs and detector sensitivities
Programmable to send up to five emails for notification of events
Automatic device testing for increased system reliability
Compact housing fits any standard wall construction