Dry Chemical
For fire hazards found in industrial settings, ANSUL® dry chemical systems provide the flexibility based on the size and configuration of the application. Both systems provide automatic or manual operation and detection/alarm/release capabilities.
The ANSUL® I- 101™ clean agent fire suppression System is an automatic system using ABC dry chemical agent for Class A, B and C fires, and BC dry chemical agent for Class B and C fires, stored under pressure using dry nitrogen gas at 450 psi (31.0 bar) at 70 °F (21 °C). The system is designed Ansulto protect a wide variety of hazards involving flammable liquids and gases, wood and paper, and energized electrical equipment. T h e system can be used on most hazards found in industrial settings The ANSUL I- 101 clean agent fire suppression system is designed for protection of vehicle paint spray booths, open face paint spray booths,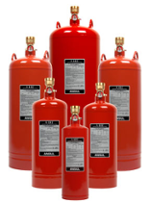 hazardous storage buildings, and many other industrial hazards. The dry chemical extinguishing agents are appropriate for Class A, B and C fires (ABC dry chemical) as well as Class B and C fires (BC dry chemical). A careful hazard survey should be conducted to properly define the type of fire to be suppressed. For hazardous material storage applications, materials and their classifications must be considered when choosing appropriate application methods. For paint spray booth applications, the predominant hazardous material is typically the material being applied to the vehicle/component that is being painted. The object to be coated should also be considered. The ANSUL I- 101 system utilizes a protection concept as defined by NFPA Standard No. 17 – "Dry Chemical Extinguishing Systems," NFPA Standard No. 33 – "Spray Application Using Flammable and Combustible Materials," NFPA 30 – "Flammable and Combustible Liquids Code," and NFPA 72 – "National Fire Alarm Code." Underwriters Laboratories provides pre-engineered system application parameters allowing the flexibility to protect a variety of hazardous material storage building layouts, paint spray booth applications, and many other hazardous industrial applications.
Ansul PLUS-FIFTY C may be used to combat fires in flammable liquids, gases and greases (Class B) including such fires when involved with energized electrical equipment (Class C). Specific applications include the protectionof commercial food preparation equipment (fryers, griddles,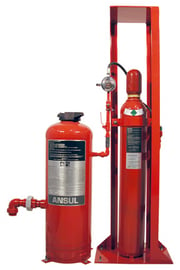 range Ansul PLUS-FIFTY Choods, etc.) and textile machinery. PLUS-FIFTY C is available in hand portable and wheeled extinguishers, large stationary units, mobile units and various fixed nozzle piped systems. This is the first of Ansul's dry chemicals, and the most widely used. PLUS-FIFTY C is a sodium bicarbonate based dry chemical containing chemical additives, and is produced by an exclusive Ansul chemical process. The resultant agent is free-flowing, water repellant, non-abrasive and, when used as a fire extinguishing agent, will produce no toxic effects. PLUS-FIFTY C is bluish-white in color to differentiate it from the other dry chemical agents. Post fire cleanup of PLUS-FIFTY C can be readily accomplished using a vacuum cleaner or a broom and dust pan. Nationally recognized testing laboratories grant an approval or listing for the combination of an extinguisher and its agent. Numerous types and sizes of approved or listed PLUS-FIFTY C extinguishers are available.
On a pound for pound basis, PLUS-FIFTY C is twice as effective in extinguisher applications as carbon dioxide. Various extinguishers charged with PLUS-FIFTY C will function effectively at temperatures from –65 °F to 150°F (–54 °C to 66 °C). Other agents are not listed for temperatures exceeding 120 °F (49 °C).