What Happened to Fenwal Protection Systems?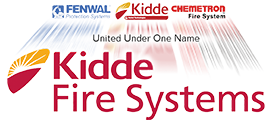 November 7, 2014, United Technologies (UTC) announced it is merging its three main fire protection system brands; Fenwall Protection Systems, Chemetron Fire Systems, and Kidde Fire Systems, into a single brand under one name, Kidde Fire Systems.
Why did this happen?
UTC is very concerned with providing their customers with the best products and user experience. It quickly became clear having three separate brands within the same organization was not in line with these concerns. Merging the brands will reduce the internal friction of balancing three very similar companies allowing one united business to provide customers with comprehensive and seamless fire protection solutions.
What Fenwal customers need to know about Kidde Fire Systems?
What Fenwal customers need to know about Kidde Fire Systems?

How will this impact me as a current Fenwal customer?
Current Fenwalcustomers will only experience minor branding changes (i.e. Fire Panel colors, Logos).

In fact, since the mid-1990's, the Kidde and Fenwal panels have been manufactured using compatible components and firmware.
Where do I go for service?
ORR Protection Systems will continue to service your fire Protection Systems just as it has in the past.
Does this affect my system warranty?
·
There is no impact on your warranty, either for your fire system(s) or its components.
Can I still get parts and for how long?
·
Since all the parts and pieces are compatible, any new installations, repairs or updates will be completely unaffected by this name change.
What if you need help right away?
Please call your Account Manager or call 855.677.6003.
CLICK HERE if you would would rather reach us electronically.
ORR Protection Systems Information
We are Mission Critical Fire Protection Experts

Design, Install

Inspection, Testing & Maintenance

Nationwide Emergency Service

We are Kidde & Fenwal Experts with over 25 years of Experience
At ORR Protection Systems we believe a large part of being mission critical fire protection experts is being able to design, install, inspect, test, repair and maintain many different fire systems from nearly any manufacturer anytime anywhere. We believe a larger part of being an expert is being able to pass this expertise on to those who need it.
Here are a few other pages you may be interested in.