Home of the Innocents is a non-profit organization in Louisville, KY, that cares for some of the city's most vulnerable children. They have both outpatient and residential programs which offer a safe haven for at-risk children, pediatric medical care, clinical treatment services, and foster/adoption services. The Home also operates a pediatric convalescent center for children who are dependent on technology to sustain life, as well as children who are terminally ill.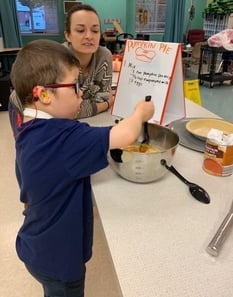 "Our population is diverse and includes high risk refugees from the nation's COVID-19 epicenter, medically fragile, medically complex and mechanically ventilated children," said Kristen, quality improvement and infection prevention specialist for the Home of the Innocents. "The risk of COVID-19 is a scary reality for the entire population but for many of our children, it could be fatal."
When Kristen created an emergency preparedness plan for Home of the Innocents, she knew the best course of action would be to include powered air-purifying respirators or PAPRs. A PAPR is a type of respirator used to safeguard workers against contaminated air. It's a battery-powered blower that provides positive airflow through a filter to a hood or face piece. "For our population PAPRs are the best option, not only in this instance, but in any instance where respiratory agents would have long lasting effects," Kristen explained.
But certain kinds of PPE are hard to come by these days. "Our director of procurement was unable to secure any, our respiratory therapists were unable to find any," said Kristen. "But I knew someone I could call. I reached out to my sister Dina at ORR Safety."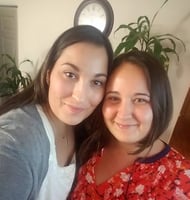 Sisters Kristen (left) and Dina.
Dina has worked at ORR for 14 years. She currently works on the Strategic Sourcing/Product Management team at ORR Safety. "My sister reached out to me at the beginning of March in a panic because the Home of the Innocents was in need of six to eight powered air-purifying respirators," said Dina. "I was able to turn a quote around immediately and had the PO in hand within three days.
Once the pandemic response began to get serious, she reached out to me again for several items including N95 masks, goggles, face shields and gowns," explained Dina. "While we weren't able to supply everything on their list, we were able to get the most critical supplies to them with a much quicker turnaround than their normal suppliers."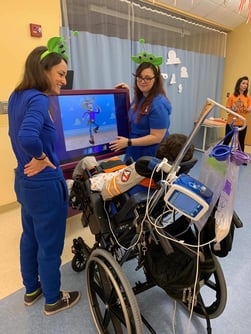 The supplies arrived at the Home of the Innocents just in time. "We were distributing the very last of our masks when the shipment arrived from ORR," said Kristen. "We are so grateful for the prompt response and swiftness from Dina and the entire ORR Safety team. I'm incredibly grateful to ORR and extremely proud of my sister."
Dina said it was an easy decision to help the Home of the Innocents. "The work ORR is doing with Home of the Innocents fits right into our culture of service. We've worked in the past with the Ronald McDonald House and Make-A-Wish Foundation, both organizations that benefit children with illnesses and their families," said Dina. "We became a solutions provider for the Home at a time when they couldn't get essential items they needed."
The opportunity to team up with her sister made the situation extra special for Dina. "We both got to do what we love to do and benefit from each other's professional network," said Dina. "Kristen and the staff at the Home are so passionate about what they do, it's a true blessing to be able to help them."