This week's topic was a little harder for me to write about. I thought long and hard about the perks of working at ORR as an employee (not just an intern) and debated about what I wanted to highlight. Fortunately, I was able to reach out to the always helpful Amy!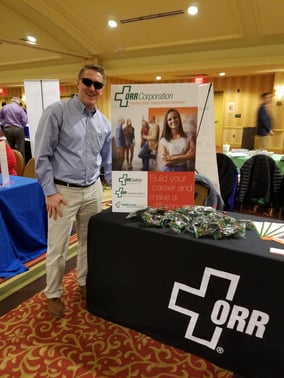 Amy, ORR's Talent Acquisition Manager, and I attended a career fair in January that was sponsored by the University of Louisville. My Introduction to Business professor said attendance was mandatory, and I didn't think it was a good idea to job hunt where my employer would be. I asked if I could attend as an employer instead and I got the green light. Amy was super accommodating and let me accompany her.
It was an incredibly unique experience to be on the other side of the job hunter's elevator pitch, and I enjoyed seeing my peers put their best selves out there (if you're an employer reading this, hire them all!). Over the course of the day I asked Amy about some of the things she felt people really valued at ORR. What made it so attractive? She thought on it and thought it was best to send me an email. Amy went above and beyond just answering my questions, so I've provided the letter in its entirety.
Here's what she wrote:
Intrinsic Perks
Knowledge
ORR Corporation is a company that values our ability to provide leadership and innovation in our industry. I know within the Associate Services team, professional development for staff is not only a budgeted line item, it's also a professional goal. It's built into our annual KPIs to ensure we're gaining knowledge that advances ourselves and the company.
Honesty and Integrity
Our focus on these as a company value is something that really "sold" me on ORR. Our leaders and Associates put a premium on the value and importance of delivering on our commitments.
Community Outreach
ORR puts a priority on community service and outreach and we do a lot to help in our respective communities. We even have a team of associates focused on elevating opportunities for us to all pitch in and work towards helping others in need. From regular blood drives to Dare to Care and Habitat builds, ORR has a history of hosting and promoting regular events that help our communities and charitable partners.
Extrinsic Perks
Pay and Benefits
ORR's Associate Services team and leadership regularly works to benchmark our pay and benefits with the marketplace to remain competitive and ensure we're fairly and equitably compensating our Associates. We have a number of creative benefits, including casual dress code, time off for volunteering opportunities, and health and wellness programs that ensure Associates have a healthy balance between personal and business challenges.
Location
We work to ensure that our facilities are beautiful and comfortable places to come and work at every day. ORR realizes many associates spend as much, if not more, time at work than at home, and as such they deserve a comfortable work environment. We've also begun allowing work-from-home opportunities to allow associates the flexibility to get their work done from any location.
Recognition
Our new Associate Services leader speaks about building on the already existing culture of recognition here at ORR. We have a place out on our intranet where associates can recognize excellent service and call out when colleagues go 'above and beyond'. We also recently introduced the Yammer platform (think of a corporate Facebook-like forum) which allows for even greater internal communication and opportunities to recognize colleagues performance and service.
There you have it! Six incredibly insightful perks ORR offers its employees! I want to thank our guest author this week, Amy, for putting together a great list. She did add a caveat that her list did not cover all motivators, just the more pertinent perks.
I'll leave you with this: In a 2014 Ted Talk, David Brooks asked the audience if they were living for their resume or their eulogy. A company that is dedicated to preserving life and quality of life is a great motivator, and with ORR's values it is easy to see how both the resume and the eulogy benefit. I am proud to work for ORR, and I know that wherever I end up I have great experience following behind.