Wes is ORR Safety's Global Sourcing Manager. He works daily to acquire the safety products that ORR distributes to its customers in industries from construction to transportation to pulp and paper. Wes joined the ORR team in 2018 after having worked for a couple large national and international corporations.
When the coronavirus hit the U.S. in early March the demand for personal protective equipment (PPE) skyrocketed. It didn't take long for health care facilities to run out of the life-saving equipment they need to care for those who are sick and prevent the spread of the virus to others. Wes has a former colleague who was having a difficult time finding the critical health care support products he needed for the staff at his company. Knowing he worked at ORR Safety, the colleague reached out to Wes for help.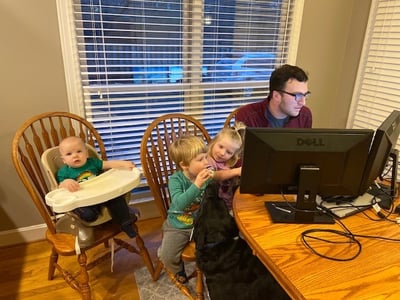 Wes receives assistance procuring PPE for health care workers.
Wes and his team sprung into action and were able to quickly locate available product and a new potential vendor for his friend. "The order has been placed and we have set up this company as a new customer," said Wes. "The products are going into the health care space to keep their clinics operating safely during this time of heavy traffic and limited supply."
Thanks to Wes and others, a team of health care workers can continue to serve their community safely. This is just one of many examples of ORR Associates stepping up during these uncertain times to offer solutions. Extraordinary times result in extraordinary stories of hard work, creativity and ingenuity. Those are the stories we will tell in the Our ORR Stories blog on orrcorp.com. Subscribe today to read more stories as they're posted.