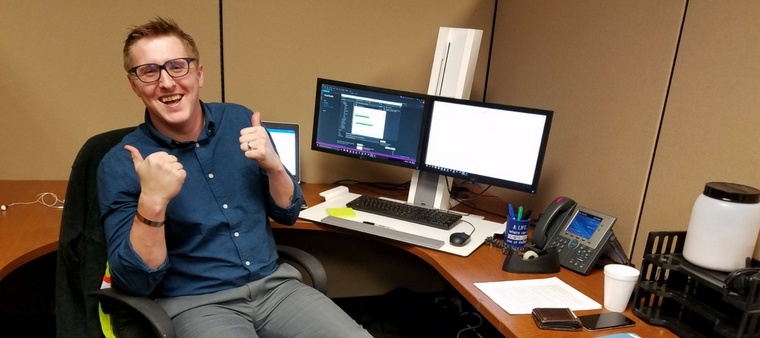 Hey there! My name is Zac and I am ORR Corporation's first IT Intern. During my time as an intern in 2017, I will be writing a weekly blog series that will give honest insight into my day-to-day life at ORR. To start this journey off, let's begin with my first day of work at ORR Corp.
First days are exciting, albeit a little stressful. On my first day, my mind was racing with question after question. Where do I go to get in the building? Where should I park? How early should I get there? I'm here too early, now I have to wait thirty minutes for the front doors to open. Who do I talk to? Do they know I'm coming today? Should I have worn a tie? Thankfully, all anxiety I felt was washed away as my supervisor came to greet me. He exuded positive energy as he gave me a tour of the company.
Settling In and Meeting the CEO
After the tour, I was shown my workspace. It was littered with computer parts and cables and I was tasked with setting up my workstation. After the housekeeping, I tried connecting my laptop to its docking station. For the life of me I could not get the monitors to connect. I was certain this was my first test and I was failing it miserably. An intern that can't get himself set up? Beads of sweat formed on my brow as I sat cross-legged under the desk fiddling with cords. Thankfully, my coworkers pitied me and quickly came to my rescue. I was so nervous that I couldn't even tell you the fix to my issue. IT magic probably. It did remind me to grab a notebook and write down all the problems I came across!
After lunch, I received a company email that welcomed me as the newest hire. A short while after the email went out I was greeted by Ray. He came over to meet me and asked about school and how I was fitting in. At the time, I didn't realize that my guest was the very same Ray that is CEO of ORR Corporation. For the CEO to take time out of his day to meet the intern completely made my day. I think I called all my friends and family to tell them the story.
Becoming Part of the Team
By the second day, I felt so welcomed and all the first day jitters were gone. I think the best thing about this new job is the feeling of being the "new guy" isn't here. I've worked as an intern for a large company before, and I was the "new guy" the whole summer. It wasn't until the final week that I felt able to voice an opinion. ORR doesn't have that awkward transition. When they claim to add you as part of their family, they mean it. Many people you meet at ORR have been with the company for a long time and aren't planning to leave anytime soon. It's amazing to think a company this size can also feel so small and connected.
The rest of the week I spent reimaging computers on my own and taking on other tasks. Some of you might think, "No big deal!" and others might think, "What's that even mean?" It's fine to be in either of these groups or even somewhere in-between like myself. It was a great feeling to try something new to me with so much autonomy. Of course, later in the week, I was sent to organize cables in the server room. My supervisor apologized for the "busy work," but I knew it was good for two reasons: first, server rooms are pretty neat to look around in, and second, I get paid by the hour!
That's my first week in a nutshell. In the coming weeks, my posts will be centered around different topics to break away from the mundane. I hope you've enjoyed the beginning and will find comfort in the posts to come. Thank you for reading!