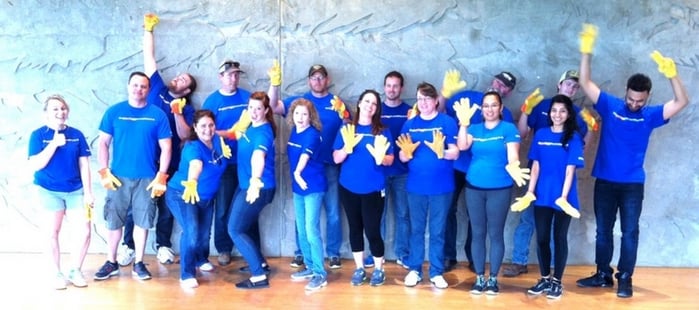 If you happened to drive by the Trinity River in Dallas, TX this past March 22nd, you may have seen a group of smiling individuals picking up trash up and down the waterway. These individuals were part of a Southwest Airlines cleanup crew who volunteered their time to pick up garbage and other debris that had collected along the river. To aid the Southwest employees in their efforts, ORR Safety donated gloves for the volunteers to wear throughout the day.
This isn't the first time that Southwest Airlines employees have contributed their time to river beautification efforts; last year a similar Southwest team held a cleanup along this same river to keep the watershed free of trash and safe for wildlife to live. This year, the team was comprised of volunteers from Southwest's supply chain management team. The week after this particular cleanup, Southwest helped lead a "Corporate Cleanup Day" along the same river and was joined by hundreds of volunteers from companies along the river corridor.
ORR Safety, which focuses on keeping workers safe in any given industry or field, donated safety gloves for the volunteers. Safety gloves are a much-needed part of any river cleanup; volunteers often find items of unknown origins and various degrees of decay. According to one of the volunteers, you can find anything ranging from underwear to car batteries on the river banks. Removal of these items is necessary to help beautify the area and improve life quality for the organisms that call the river home.
Protecting Life by the River
The Trinity River is 710 miles long and stretches from the communities north of Dallas to its mouth in the Gulf of Mexico. It is home to a diverse ecosystem of wildlife, including several climate-endangered birds, two dozen species of reptiles, and the largest maternal colony of southeastern big-eared bats in Texas.
The Southwest Airlines group and ORR Safety are not alone in doing their part to help keep our communities and environment a safe and thriving place for everyone who lives there. Although the Trinity River was named as one of Texas' most polluted waters in 2010, there has since been an overwhelming effort to help clean it up: large groups of volunteers have swooped upon the area to give their aid, it was named an official state canoe and kayak trail, and an "Adopt-a-Spot" interactive map was created to help organize cleanup efforts.
If you are in the Trinity River watershed and would like to aid in the cleanup efforts, visit the Trinity River Audubon website for more information on future cleanup and conservation efforts.
No matter where you're located, you can make a difference. The American Rivers organization has a list of cleanups around the country, or you can organize one of your own. Visit their website for a collection of resources to help you get organized, register, and promote your event.