At the end of August 2017, Hurricane Harvey made landfall in the Houston area. Soon after, Hurricane Irma made a line for Florida. Both hurricanes left a path of destruction in their wake. Word of the damage quickly spread, and people across the country joined forces to help their fellow citizens in this time of need. ORR was no different. Our Associates banded together after these devastating hurricanes to help those affected bounce back.
There is no doubt about it, both Hurricane Harvey and Hurricane Irma were destructive. Harvey displaced 30,000 people, damaged or destroyed more than 48,000 homes, and left 81 people dead. Irma, which was downgraded to a tropical storm after passing Cuba, left millions without power, damaged homes, and flooded streets.
While the full extent of the damage will be unknown for some time, these back-to-back hurricanes are expected to be the third and fourth costliest hurricanes of all time. Rebuilding efforts are underway, and ORR Associates in the affected regions are recovering.
ORR Family Responds in Time of Need
Soon after the hurricanes, ORR organized a GoFundMe page for members of the ORR family affected by the two hurricanes. Within days, the fundraiser had far exceeded the original goal of $5,000. The GoFundMe page is still active and has now raised over $12,000. With ORR matching the donations 100%, the total amount raised will exceed $25,000.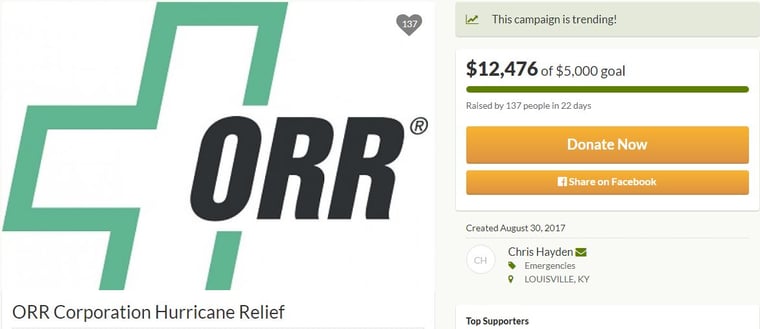 Thankfully, no ORR Associates were injured due to the hurricanes. However, property damage is extensive and many people are experiencing extended displacement from their homes as a result. The donations we raised will go to aid each Associate affected based on individual needs.
A committee of Associates in the Louisville office is working hand-in-hand with Associates in the Southeast to gauge how the donations can help. Any leftover funds will go to reputable relief organizations on the ground in Texas and Florida.
Everyone Coming Together
Beyond the ORR GoFundMe page, Associates across the country banded together to help their neighbors in other ways.
• A large order of safety gear that needed to get to Houston was sitting in ORR Safety's Kansas City warehouse because commercial carriers could not be secured to deliver to that area. Bob Johnson, VP Railroad Sales, and a number of other Associates decided to take action. Recognizing that the safety gear was at a standstill, Bob and his team loaded up a truck with the needed products and drove the 700+ miles down to Houston.
MORR Gear being loaded in the shipping trucks.
• MORR Gear donated 16,300 pairs of safety glasses to the relief workers in TX and GA.
• InspectionLogic coordinated the donation of two pallets of personal protective equipment (ProGard coveralls, cut resistant dipped gloves, latex gloves and safety glasses) donated by ORR Safety Corporation to the participants at the ILC Users' Group Conference in Houston. The participants, in turn, personally used or donated these products in their local communities.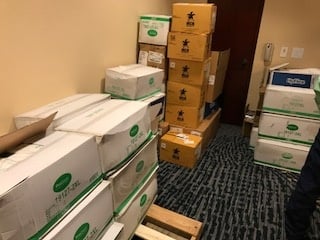 PPE that Inspection Logic organized and ORR Safety donated to Houston.
It's often in the tough times that we are reminded of how important family is. The ORR Corporation family has been giving back to the communities we live and work in since our inception, and this will always be a core value for us. We are very proud to be part of the ORR family and cannot express enough gratitude to everyone who contributed.
The ORR Corporation GoFundMe page is still active. If you would like to donate, please follow this link.