Having a wish granted can be a game-changer for a child with a critical illness. In the case of Drew Horsey, his wish was a game-changer for dozens of children across Kentucky. This is the story of how one little boy's battle with cancer inspired ORR Corporation to partner with Make-A-Wish to ensure other children have the opportunity for their wishes to come true.
Two weeks before Drew's 10th birthday his family was told he had a Wilms tumor. "It was stage 3," said Dan Horsey, Drew's father. "It started in his kidney and was now in his lymph system. His initial prognosis was not good. May 18, 2006 was a day I'll never forget, it was the day that everything changed for our family."
Drew started treatment and his family was hopeful. "Several months into Drew's treatment we were contacted by Make-A-Wish and told he was eligible to have a wish granted," explained Dan. "We thought wishes were only for children who were terminal. Our Drew Boy was improving so we initially told them to give his wish to someone else. But they assured us Drew was eligible and they wanted to do this for him"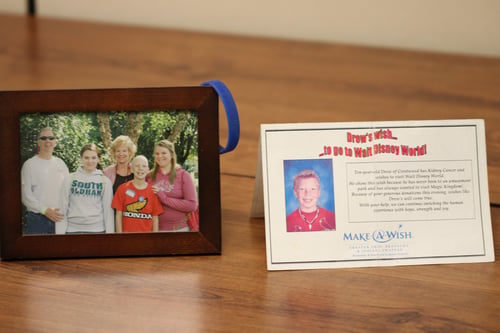 Dan Horsey has worked for ORR for 17 years and is currently an account manager with ORR Safety.
Funny enough, it was the shirt that Dan chose to wear on the day he met with Make-A-Wish that started the chain of events which led to ORR Corporation's now 11 year partnership with the organization.
"Dan came into my office one day and told me that the ORR logo on his shirt had sparked a conversation with the Make-A-Wish folks," said Bud Orr, former ORR Corporation President and CEO and current Chairman Emeritus. "He told me that I might get a call from someone from the organization. Soon after, the Make-A-Wish Executive Director called me to talk about their mission and the open position on their board of directors. I looked into the organization and liked what I saw so I accepted the position on their board."
"I love what Make-A-Wish does for these children and their families," said Bud. "It was even more special to see how they touched the life of one of our own associates. I am honored to have served this organization."
Drew Horsey's wish was granted with a trip to Disney World. The already magical trip was topped off by a knock on the door of their villa one morning. "There was a young man standing there who I assumed was a staff member," recalls Dan. "He asked if Drew wanted to come out and throw a football with him. It ended up being NFL quarterback Kurt Warner!"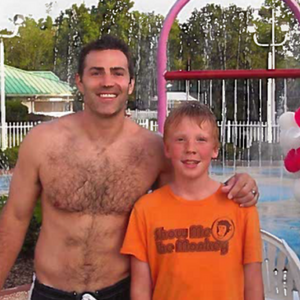 Drew with Kurt Warner at Disney World
The Horsey family's trip to Disney is a memory they won't forget. Today Drew Horsey is a strong, healthy 21 year old who honors those who helped him through a difficult time by volunteering each summer at a camp for children battling cancer.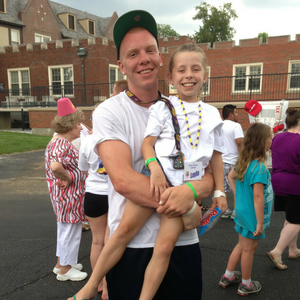 Drew volunteering at a camp for children battling cancer
Over the past 11 years, ORR Corporation has partnered with Make-A-Wish by sponsoring events such as the annual Walk for Wishes, raising funds through associate donations and having company leaders serve on the board. Because of ORR's efforts, dozens of children in Kentucky like Drew Horsey have had their wishes granted. In 2017 alone, ORR raised enough money to grant eight wishes.
To learn more about Make-A-Wish, visit their website. To support ORR Corporation's goal to grant 10 wishes in 2018, join our Walk for Wishes fundraising team today.