No matter their job title, tenure or age, ORR Associates are given many opportunities to pursue their passions in our family-focused work environment.
This video is no longer available
The file cannot be accessed or has been deleted
While we've highlighted associates across many departments here in Our ORR Stories over the last few years, this trio of 2018-2019 interns have helped develop many customer-focused solutions and innovative ideas in their time on our staff.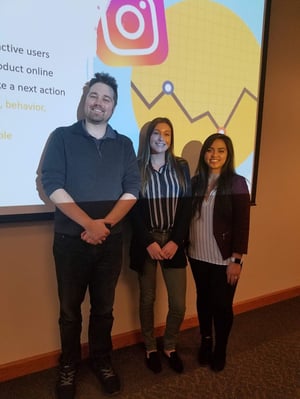 Maegan Guzman (shown center with Phil Aldridge, eCommerce Manager), was introduced to the ORR team on a professor's recommendation. She had a few interviews with the ORR team before starting as an eCommerce intern in November 2018.
Her internship project was to analyze 2019's highest-potential social platforms and determine the best fit for our B2B company as a way to market to a younger generation.
Throughout her project, Maegan was able to create a case for creating a separate Customer Service account on Twitter to candidly talk to customers, whether their experiences with the brand had been good or bad. These meaningful conversations created real opportunities for learning, growth and improvement as a company.
Nicole Galvan (shown far right), who also met the ORR team through a professor's introduction, came onto the eCommerce team in November with a bit different mission: to look into cutting-edge eCommerce experiences and user experience trends.
She dedicated herself to discovering new ways of engaging with customers for the ORR community in our online marketplace.
Trisia Baltazar (shown below) came to ORR on the recommendation of a friend who was already an associate with us who thought Trisia's IT skills would translate well into being a Business Solutions intern.
Her project was to work specifically with three to four years of ORR Safety's data to find meaningful ways to dashboard and analyze this data to bring the power of business intelligence (BI) to the ORR Safety team.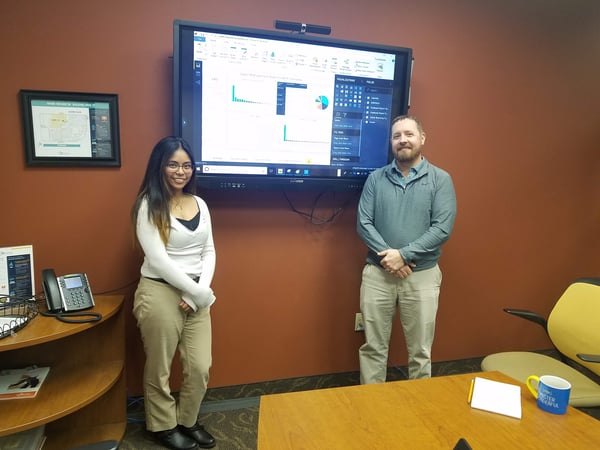 Creating Real Impact as Interns
While much of their internship experiences were dedicated to learning and individual growth, Trisia, Maegan and Nicole were all encouraged to trace their project impact on the other ORR teams and find how their research could affect customers in the future in a positive way.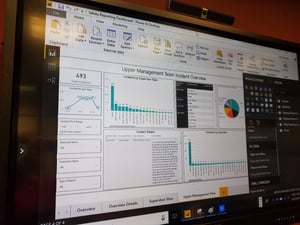 "I think this was helpful because it showed them the capabilities of power BI and the impact on other departments," Trisia says. "I was very lucky to be able to help them in my time there by making dashboard templates and helping them visualize each data point into an easy-to-read chart."
"I was really excited about my project because I like coming up with solutions that improve the end-user experience," adds Nicole. "Offering bundled products and kits is a great way to do this. I think my presentation brought attention to issues that need resolving from other teams and the leadership team."
An Empowering Experience
In addition to presenting their projects to their direct managers, this cohort of interns was also asked to give a second, follow-up presentation to other ORR leaders. A common theme across all three of these associate experiences was that the opportunity to present to (and learn directly from) the ORR leadership team was intimidating at first -- but incredibly empowering.
"I've been presenting for most of my ed career, so I wasn't too nervous," Trisia says. " But it was great to show what I've been working on and be proud of what I've done. Presenting to big names at ORR helped me become more proud of my work."
"It also gives you practice on your public speaking skills and learning to engage the audience," adds Maegan. "Phil told us to start with a story (after we gave an initial presentation to him), but I wouldn't have known this if we hadn't practiced before presenting to more leadership later on."
I think it's important to present to employees of any level as a learning experience," says Nicole. "Each person at ORR has a different perspective. It's important to be open-minded and hear those other perspectives. In our presentation's Q&A, we got feedback and other recommendations to resolve these issues. It also gave us an opportunity to hear and share different opinions and helps us to get every angle of a situation to find a solution as a team."
Are You Considering the Leap to #JoinORR?
We are proud to feature Our ORR Stories at all levels of the company, just like Trisia, Nicole and Maegan. If you're interested in joining our mission to protect people, property and the environment with an enriching work family, start by exploring the current available positions at ORR.