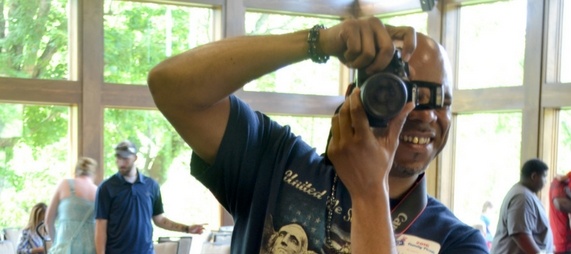 At ORR, opportunities for career growth are around every corner. When you start in one of the ORR Corporation divisions, we want to help you grow your career. Bobby, a critical member of the ORR marketing and creative team, is a prime example of starting in one position at ORR and moving to a new role based on hard work and personal career goals. Bobby started working in the warehouse 13 years ago and now has the opportunity to use his artistic talent each day through his position on the marketing team. We interviewed Bobby about what it takes to grow at ORR and how to be successful in a role that may be completely new.
How did you get started with ORR Safety?
Bobby: "I got my first job at ORR Safety through a temporary service. After my temp work was completed, ORR called me back to see if I was interested in a job in the warehouse. I accepted and worked in the Warehouse Associate role for five years. Throughout this time, many of my coworkers heard I was an artist. My natural creativity was recognized and this helped me in my future at ORR Safety.
While still in the warehouse, a position in marketing opened up that seemed to be a good fit. I interviewed for it and have been in that position for eight years now. I am currently a graphic designer for digital sales materials. I'm now working towards a new role that includes videography and photography. This will be my third position within the company. In total, I've been with ORR Safety for 13 years."
How did the transition from the warehouse happen?
Bobby: "It seemed to naturally happen. Once word got around that I had an artistic side, my creativity was recognized as a good fit for the marketing department. A lot of the programs I use, like the Adobe Suite, were new to me. I take a lot of pride in being self-taught. I had to pick up and learn programs I had never seen or used before.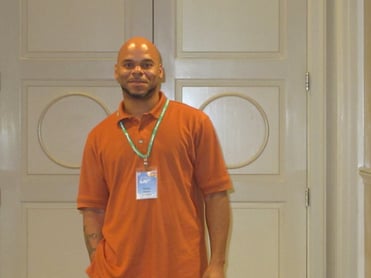 Bobby at the 2011 National Sales Meeting
One day I was handed a camera and asked to take pictures for various events and products, so I did, and marketing leaders were impressed. That's how I became one of the company's photographers. I am always putting in the effort to learn new things, constantly progressing and learning more."
How has ORR changed in the 13 years you've been here?
Bobby: "There have been all types of changes, some have been easy and some have taken longer to adopt. A lot of changes are business related, for example our move into more digital media, the rebranding project and our inbound marketing strategy. Strategic vision and innovation have driven these changes and they are for the best. One thing that hasn't changed is that everyone cares about what's going on with our fellow coworkers outside of work hours. We are friends in and outside of the organization."
In your eyes, what sets ORR apart from other companies in the industry?
Bobby: "It's the family culture and the closeness that we have to each other. What we do is work, but it often doesn't feel like it. You're with people who actually care about you, what you do, and your family. I've worked places where you clock in and clock out, but that's it. ORR is not like that."
What has kept you at ORR?
Bobby: "Opportunity. Seeing that I can move from the warehouse to a role in the office pursuing my passion. In my time here, I've seen over 10 employees move from the warehouse to the office. Everyone in the organization has the opportunity to grow if they put in the work.
It would be very difficult to replicate what we have here."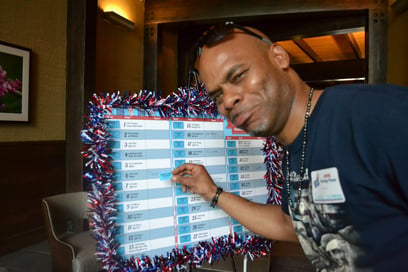 Do you have any advice for those just starting their career at ORR?
Bobby: "Don't give up on what you ultimately want to do. If you put in the work, it will pay off. And everyone also wants you to do well. They may not want you to leave their division, but they're not going to stop you from doing more and following your vision to go forward.
Stick with it, work hard and constantly apply what you're learning and keep going for what you want."