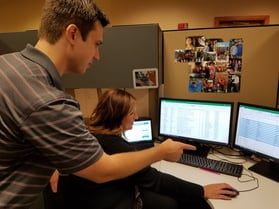 In July I embarked on my internship adventure at ORR Corporation. I've come a long way since my first day and now feel like this is a good fit and that I'm making an impact. I started with what one might refer to as "busy work." I was asked to work on small tasks and attend meetings that I thought had no relevance to me – until just recently. Now, in hindsight, I see how all the initial "busy work" and meetings have prepared me for the responsibilities I've earned in my role!
Getting Acquainted with the Industry
The busy work consisted of checking over item descriptions already in the system and making sure there were no errors. This sounds easy until I mention the part about not knowing anything about the safety equipment that ORR distributes. I found myself using Google a lot to learn more about CMS (Chip Measurement Systems) or how in the world an anchorage sling functions. After three weeks of spending quality time with Google, I had a firmer grasp on the different categories of safety products. I'm now much more confident in the item maintenance aspect of the company and I'm able to assume greater volumes and complexity of work to assist my team.
Training and Shadowing Pays Off
In addition to the internet searches and self-teaching, I also received one-on-one training with my supervisor, Nick Stevenson, on the many steps it takes to complete a single pricing update. After several days filled with questions and side notes, I've mastered pricing updates and am able to complete them on my own. I'm very lucky to have a person as patient and knowledgeable as Nick to train me. He's been extremely helpful and has allowed me greater comfort and ability to help the team.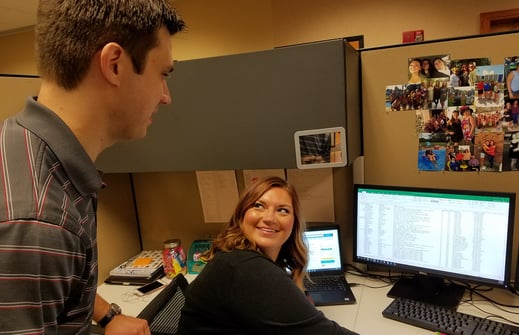 Hannah and Nick working together on big project.
Aside from my day-to-day tasks, I also attended meetings with Nick about a very important bid. The first couple of meetings I stayed quiet and took mental notes on key words and terms to help me learn the ORR lingo. It wasn't until the third meeting that I really started to understand that this bid was a huge priority for the company. I was then asked to help the Category Managers complete their portion of the bid. Over the weeks I've worked hard to gather information and quotes from suppliers to complete the bid by the deadline.
I am very pleased with the training I've received at ORR. I'm also honored that my boss had enough confidence in me to ask for my help with an extremely important project. I'm glad to be useful and to be building the skill set needed to be successful both now and in the future.