In any new job, it can be tough to understand where you fit. Is there is going to be opportunity for growth? Do I want to make a career out of what I'm doing now? Individuals of all backgrounds work for ORR, and anyone willing to work hard and try new things has opportunity to advance their career. In this interview with John, a Customer Service Representative out of Kansas City, we discuss his progression from when he first started at ORR as a Distribution Specialist and what it's like to work at the same organization as his wife, Vickie.
Tell us about yourself and your family.
John: "With our anniversary this past August, my wife Vickie and I have been married 22 years now. We have two sons, aged 20 and 18, both of whom are in college and working at the same time.
I'm also a huge sports buff. I was a big fan of my sons' sports as they were growing up. Nowadays they're not playing collegiately, so I'm a big Kansas City Chiefs fan. I'm also a St. Louis area native, so I'm still an avid lifelong Cardinals baseball fan.
The majority of my life is centered around family. We do a lot of things together, and that comprises my day-to-day life outside of work."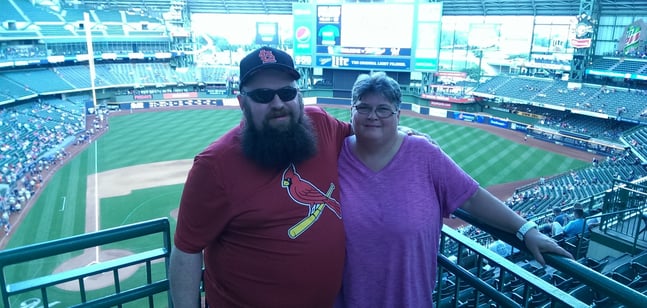 John and Vickie White at a baseball game.
What has your journey at ORR been like?
John: "It's actually pretty interesting; I would have never guessed that I would be in the position I'm in today. I first started with ORR in a temporary warehouse role a couple years ago. My wife has worked at ORR for more than six years and I first heard about that temporary position from her.
After starting, I worked about six months as a temp before I was brought on full time. I was initially searching for other temporary positions as well, but decided to come on full time with ORR.
That year, we had a Christmas party where we went out to a mystery dinner theater. Each of us had to create a name for ourselves as part of the experience. The following week we had a contest at ORR's Kansas City location to see if we were able to remember the names of the other Associates at the mystery theater.
I was able to remember almost everyone's character names from the Christmas party night. This got me started talking to Bob Johnson, VP of Railroad Sales, who set up the contest. We began talking about me potentially coming into the office.
I wasn't really expecting a transition, but it has worked out well as far as I'm concerned. I went through the multi-round interview process, interviewed well, and had the opportunity to move from the warehouse to the office."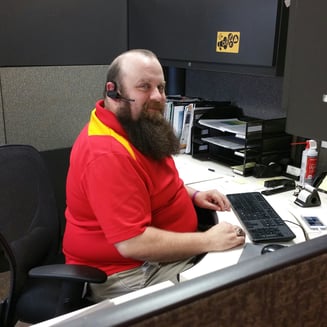 What do you do in your current role with ORR?
John: "I am a Customer Service Representative. I currently handle two different Account Managers' accounts. I take care of any phone calls that come through my location, all the order processing for my account managers, and some order processing for house accounts. I also receive orders over the phone when there are call-in orders. I've now been in this role for about a year and a half, since April of 2016."
What's it like to work for a family company like ORR?
John: "It's definitely interesting working at the same company as my wife. My wife and I have a history of working together at other organizations and we actually first met while at work. Being together at ORR is a good situation for both of us. We were initially working directly together in the warehouse, and now that I'm in the office we still have a lot of interaction. I enjoy a situation that allows me to integrate family with work, and ORR is a family-oriented company so it's a great fit."
What sets ORR apart from other places you've worked?
John: "ORR is set apart in the fact that I was able to make a transition into a job I never really envisioned myself being in. This is the first job I've worked where I do a lot of computer work, take phone calls, and do other office work. I've really enjoyed it. Almost all of my other positions were physical jobs and a lot of customer service (which has helped me in this role).
ORR opened up the opportunity for me and provided all the necessary training to get me up to speed, but it was up to me to take that initiative and learn new skills and processes."
Do you have any advice for those not sure about what career they can have at ORR?
John: "Be open-minded and ready for the challenges that come to you. I wasn't aware the Customer Service opportunity was an option and good fit for me when I started with ORR, but I was open to learning more and ORR helped me grow. There may be further opportunities around every corner. Be eager to learn.
If you're a hard worker and enjoy what you do, the possibilities are endless."