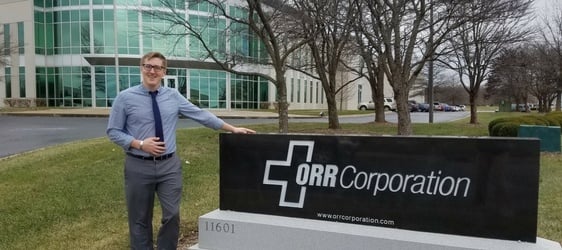 Many companies in Louisville offer summer internships for CIS students, which is great since an internship is required to graduate from the University of Louisville's College of Business. A mandatory internship is enough of a reason to explore the work world for a company willing to hire, but it shouldn't be your main goal for finding work. Interning is one of the best tools to gaining employment post-college, probably only second to good ole' fashioned networking. When entering an internship, your main goals should fall along the lines of involvement, flexibility, experience, and compensation. Let's take these four goals and examine ORR's ability to meet them compared to other Louisville-based companies.
1. Involvement
How will the company utilize me? This question was a big concern of mine. I worked at a company last summer that was willing to take a chance on me and it was a great starting point. The work was semi-entry level; you needed to have a basic understanding of databases and computer languages, but not much else. My tasks were often tedious and boring, but my coworkers were very nice. However, the overall lack of mentorship and training left me wanting more. I felt that I was left to do my tasks and then head home once they were complete.
After that experience, I really wanted my second internship to be with a company that would work with me consistently throughout my time there. ORR Corporation sells itself to college students and prospective interns as a large company with a small company feel. What exactly does that mean? It means that your supervisor is not only interested in the work you do for him/her; they're interested in you. It means Associates from all departments are willing to talk to you and teach you about their day-to-day. It means that you get constant exposure to new things.
2. Flexibility
Flexibility is a huge question for college students looking for an internship. How in the world am I going to intertwine work with my school schedule? Everyone has crazy schedules, but I'm going to assume mine's even busier than most. I work part-time in the Air National Guard and am sent away for weeks at a time. Being on call, I either give notice weeks in advance or sometimes none at all. But that's not why my schedule is busier than average; I owe most of the craziness of it to my two-year-old daughter.
Kids are extremely hard to schedule around. I would say my second biggest factor for working for ORR Corporation is their promotion of family. It said it right in their brochure at the career fair: "At ORR, we put Associates first." I'll admit I'm paraphrasing because I don't have it in front of me, but that's pretty close! At ORR they care about your happiness and your life. They want you to spend time with family, which means they're willing to work with you if you need to take time off.
I think the best thing to say about the flexibility I am given here is I don't have a looming fear that I'm replaceable. A different company may simply find someone else to fill my role without thinking twice. At ORR I can request an afternoon off to take my daughter to the doctor without fearing my name will end up on someone's blacklist. Side note: don't go asking off every day of the week!
3. Experience
Experience is very important. College is a unique time that is both a preview to the real work world and a time you can mistakes that turn into great life lessons. Why get a boring internship? Find a job that meets your most important criteria, but also one you look forward to going to.
I knew I didn't want to be another cog in the wheel. Of course, I saw the benefit in working at a large company with tons of exposure, but for my sanity, I wanted a compassionate place with charisma. ORR Corp combines these two characteristics in their culture. They provide a small company feel that truly cares about you as an Associate and not you as a producer. ORR is also listed as a top market leader in safety by Modern Distribution Management. That's some pretty heavy name recognition!
4. Compensation
We all want to get paid right? Even if we never bring it up at career fairs or interviews, students are always thinking about it. It comes up in every conversation at school about who is interning where. In Louisville, we're lucky to have many paid internship options. This is especially true when you consider that CIS is the only major that requires a co-op. While many companies can simply hire to fulfill a credit need by a student, they choose to offer pay to entice higher quality applicants. ORR Corporation is very competitive in this regard. They looked at the market and decided they wanted the top candidates to give them a shot. Why they settled on me we'll never know. HEY-O! No, but really, they took the time to do their research and I for one am happier for it.
There you have it! My four reasons why ORR will rock your intern socks off. There are many great companies in Louisville, but I am very happy to have been chosen by ORR to work with them. As you are looking for a job in Louisville, I highly suggest you look into ORR Corporation and their three branches of companies.