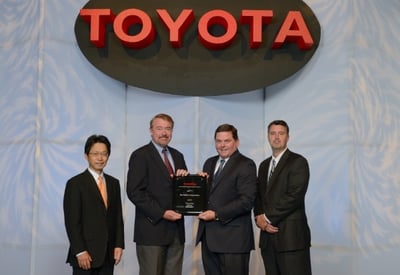 On June 4, 2015, ORR Safety was recognized with both the 2015 Outstanding Delivery Performance Award and the 2015 Superior Performance Award from Toyota Motor Engineering & Manufacturing North America, Inc. (TEMA.) The awards were presented at the Northern Kentucky Convention Center in Covington, KY during the Annual Indirect Supplier Business Meeting (ABM.)
In it's 4th year, the meeting brings together approximately 300 supplier representatives from all Toyota production facilities in North America. It also allows Toyota to communicate business objectives and highlight key Supplier Expectations.
Since 1948, ORR Safety's business focus has been to provide industrial safety, occupational health, industrial hygiene, and fire-related products and services for companies large and small. Today, ORR Safety is one of the nation's largest privately held safety distributors and represents hundreds of leading manufacturers to offer products for any application.
ORR Safety is proud to be recognized as a high performing Supplier Partner in both categories.
"When meeting our goals of serving Toyota are recognized, it clearly reminds us why we do what we do, and sets the bar higher immediately, with expectations of how we can improve. The Orr Team - from sales, operations, customer service, and product management - comes together to prove our capabilities."
- Gil Truesdale, ORR National Sales Manager