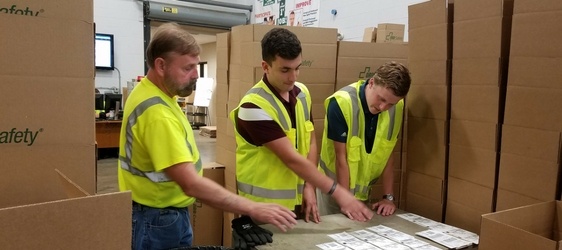 As summer ends, student interns across the nation are headed back to their respective college campuses with real world experience under their belt. Internships vary depending on the company and student; some are a full immersion within a specific job while others provide a broader grasp of an industry as a whole. While students return to late nights studying and library visits, they now have an abundance of new experiences and an introduction to what to expect when they enter the workforce. ORR had the privilege of hosting two students from Texas A&M this summer, who got a broad perspective of ORR and its industries, all within a few months. One of the interns, Dave, sat down and wrote up his end of summer thoughts:
"The two months of summer quickly flew by as Gabriel and I jumped from task to task, not only lending a hand where possible but also learning a vast amount in the process. Throughout our last few weeks at ORR Safety, we focused mostly on the different aspects of the Sales Department. We gained valuable knowledge from the Sales Managers as they described to us all of the lessons they had learned over the years. Also, we were able to travel with a few Account Managers and learn how they go about their daily activities. These ridealongs were extremely valuable; something that I would never be able to experience inside a classroom.
I finally began to enjoy the city of Louisville more and more as time went on and found myself a little hesitant to leave. It had been my home for a whole summer and I began to enjoy the restaurants, the people, and the connections I have made. It was truly a fulfilling summer and I am thankful for the opportunity to learn and work for a great organization such as ORR Safety."
We would like to thank Dave and Gabriel for joining us in Louisville this summer and wish them the best of luck as they finish their college careers. You both made an impact at ORR and we are sure you have good things ahead of you!