In his role as Category Manger, Olen works to align the Sales, Marketing and Purchasing teams while working to create the best value for everyone involved. Olen is also a world traveler, constantly taking on new projects and challenges. In this interview, learn more about Olen's experience in the Safety Industry, what his day-to-day is like working at ORR, and what it takes to be a great Category Manager.
How did you get started at ORR?
Olen: "When I found ORR, I was looking for something that would utilize both my MBA and my experience in Safety Management. Before joining ORR, I was responsible for environmental health and safety (EHS) at an industrial services company that performed work all over the world. Basically, we would perform outage services on chemical plants, power plants and gas refineries. With a presence in Czech Republic, Kazakhstan, South Africa, and Asia, I was developing safety programs all across the globe."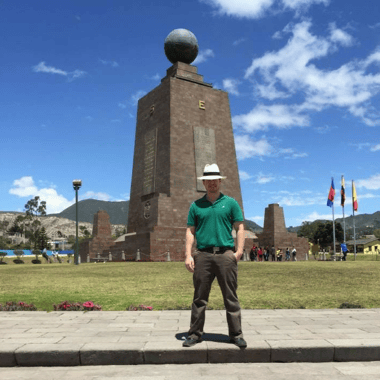 Olen in Ecuador
What is your current role like?
Olen: "My job as a Category Manager is to help create the strategic vision for ORR Safety by aligning Marketing, Purchasing and Sales with vendors and products that provide the most long-term value to our customers and ORR. I do that by reviewing an almost limitless number of products and vendors, with current customer demands, and trying to predict future trends by understanding current and upcoming regulations.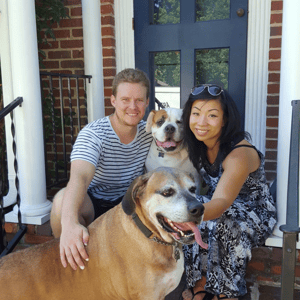 We also deal with discontinuations and customer recalls. Just because the item gets discontinued or recalled doesn't mean the customer no longer has a need for it. We work to find an appropriate replacement and alert our internal teams of the issue.
As far as the day-to-day goes, I meet with vendors, analyze sales and purchasing histories, inventory, and on-time delivery rates. There are a number of matrices we use to evaluate our vendors, looking for cost-saving opportunities, and reviewing commodity pricing on the global market. I also meet with ORR's Marketing team to discuss the best way to promote our strategy."
What qualities are important to be an effective category manager?
Olen: "Coordinating different departments that have their own end-goals is really our entire job. Purchasing has their own goals; Sales has their own goals; Marketing has their own goals and it's our job to align those as best we can. We take a lot into consideration and make sure that we can bring the most value to ORR and our customers as possible. To achieve this it's important to be able to foster relationships, manage priorities and maintain flexibility."
How do you stay on top of trends in the Safety Industry?
Olen: "We attend a lot of conferences and are constantly meeting with our vendors. We also have a lot of internal tools that we use from a data standpoint to help us stay on top of our buying trends. The Federal Reserve has a great tool for commodities, safety journals and other publications. And, of course OSHA, ANSI, ASTM, NIOSH and ASSP all have their own resources that are invaluable to helping us stay on top of changes in the industry. Orr has been in the safety business for 70 years, so our experienced field sales team certainly helps to keep us up to speed on trends and needs as well.
A safety background definitely helps, but our team is pretty diverse. One of our category managers has a background in marketing, another has a background in sourcing, so there are different areas where we each add value."
What sets ORR apart from other companies that you have worked for?
Olen: "They really do care about people. Also at ORR, we have recognized the need for change, and we are taking proactive steps to stay ahead of the market to ensure our continued success. I think that is actually pretty different than what I've seen elsewhere. ORR has innovation as a core value and is taking steps to make sure we're prepared to face whatever is next and continue to thrive."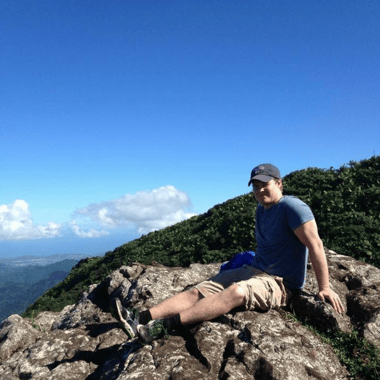 Olen in Puerto Rico
What do you do with your time outside of ORR?
Olen: "When you travel as much as I did for work you can sometimes lose the taste for it, which I did to an extent, but I still like to travel. I studied Arabic in school, so I've spent a lot of time in the Middle East and enjoy languages. But I've also spent a lot of time in the Caribbean and all over the U.S. I like to fish and shoot and generally just being active.
I like to stay busy. I got my MBA a few years ago and that consumed a lot of time. When I finished that I bought an estate property, so I was fixing up my house for a few years. Since moving to Kentucky, I completed my first marathon and got into day trading. And now I am studying for my Certified Safety Professional certification. I am always taking on new projects and trying out new skills.
My wife and I just had our first baby and that's more of a long-term project!"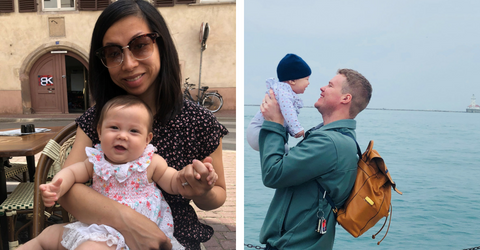 Olen's wife Sally, and daughter Olivia