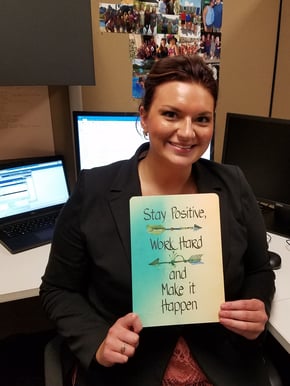 If you asked me six months ago about where I would be working in the summer of 2017, ORR Safety would not have crossed my mind. I am currently a junior at Indiana University Southeast working towards a triple business major in Marketing, Finance and Personal Selling & Sales Management. My time in college is nearing its end and I have realized how important it is for me to pursue an internship in what I am interested in and build my resume before I enter the workforce post-graduation. I visited the career development center on my campus this past semester to get started on this path. The advisors there helped me build my resume and LinkedIn profile and then advised me to attend the job fair scheduled for the following week.
I'll be honest. I'm not exactly sure what type of career I want to pursue. There are multiple jobs out there that are a good fit with my degree and I'm still trying to figure out what fits me best. I arrived at the job fair and walked around, open to any company or position that seemed interesting. I spoke to many different companies including GE Appliances, Humana, LG&E, Enterprise, UPS, and other local businesses. I had an interest in many of the jobs they had available.
The job seeking process
On my way out the door, I stopped at a table with an ORR Safety Corporation sign. Initially, I didn't think it was a company I had an interest in or would have a position that was a fit for me. But the lady behind the table caught my attention and asked if she could help me. My interest was piqued when she began telling me about an e-Commerce internship that was being created and would be available in the future. She went on to tell me about a current opening for a customer service intern. Before I left the table she asked for a copy of my resume and gave me a card to apply online.
Immediately after my classes that same day, I rushed home and started applying for all the job opportunities I had discovered. About a week later I received a voicemail from Amy Cullen at ORR who asked to discuss my application with me. We scheduled a phone interview which then led to a face-to-face interview. During this same time I had two other internship opportunities offered to me from Louisville Marketing Solutions and Jeffboat. The job at ORR seemed the most fitting for me and had the most room for growth. I was thrilled to find out that ORR also thought I was a good fit and offered me the position!
It takes time and a lot of hard work
I have been working at ORR for about a month. I'll admit that the first week of training was very stressful and slightly over my head. The first day I thought I might fail at this job. I had no prior knowledge of safety equipment or about the database we use called Great Plains. However, I told myself that I would get better with time and that everything would work out. I was told that I received a great deal of information in the first week but that I did a tremendous job in retaining it. Eventually I got the hang of it and soon was able to complete a pricing update on my own. The following week my trainer returned from vacation and made himself available to answer any questions I had. He has been patient and supportive and now I am confident in what I am doing. I have now successfully submitted 11 pricing updates on my own!
Overall, my internship at ORR has been outstanding and has challenged me in various ways. Everyone here is nice, extremely helpful and welcoming. I have been able to apply the Excel skills I learned in school and use them on a whole new level. This job has also taught me various shortcuts in Excel and Access that I will be able to apply in my future career. I also have a much better understanding of business terminology that I learned in school but didn't fully understand. Often the best way to learn is by doing.
I would highly recommend working at ORR to any classmate, friend or family member. I actually referred a friend to ORR and she starts in a week. I'm excited to hear about her internship at ORR and the influence it will have on her and her future career. ORR Safety is filled with kind, driven employees who want to help this company succeed and I am so happy to be here! I'm looking forward to what other opportunities this internship leads me to in the future.