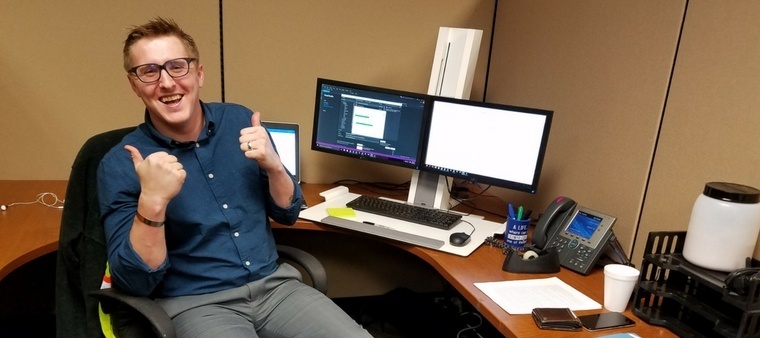 Many of my peers on campus have the same question when applying for a job "Will I be able to land an internship with a respectable company where I can learn and still graduate on time?"
The question often plagues hopeful college juniors in the Computer Information Systems (CIS) track, since internships are required for graduation. Some unfortunate students even find themselves adding an extra semester to meet the requirement. The market has responded and companies in the area know they need to get on board with the intern-hiring trend. Of course, the CIS department is facing a new problem: more students are enrolling as CIS majors. This means more competition and possibly a longer job hunting process.
It Started with the UofL Career Fair
I applied to Humana, UPS, LG&E and ORR at the fall career fair. I heard back from almost everyone within the first month. Humana put me through the ringer with phone interviews and a video interview. I must not have done very well as it ended there. I don't think they knew I wasn't wearing pants, but I probably gave off that vibe. UPS never contacted me, which was disappointing. LG&E called to say they were interested in me as a business analyst intern. That sounded intriguing, but I was more interested in programming at the time so I tabled the thought. ORR contacted me and asked me several questions during the phone interview, then invited me to come in for an in-person interview. They asked less technical questions and more behavioral-based questions. And ORR did something no other company did – they kept communicating with me.
The ORR Difference
Initially, I thought I wanted to work for a large, well-known company so I was holding out hope for Humana or waiting to fall back on LG&E, but ORR was more communicative and responsive than the other employers. ORR called and wanted to get to the root of my hesitation to make the leap. I realized that I wasn't sure what was holding me back, and they made me an offer. They finally hooked me when they pointed out that this was also a new experience for them and they were willing to adjust to my learning curve.
Final thoughts...
I'm very happy with the way things turned out, ORR was straight forward and committed from the start. They spoke with me at the career fair, answering my questions thoughtfully and earnestly. They contacted me within a week of the fair, and things moved quickly from there. They were persistent and made adjustments easily. ORR absolutely spoiled me as a college student seeking an internship. There is no shame in jumping through a few hoops, but if you can find the company that jumps through them with you I say give them a shot. The relationships you build will carry you further than you could ever go on your own.
---
Thank you for stopping by and reading this week's edition of Intern Insights! Don't forget to subscribe to our Careers blog to receive an email notification when it's released!