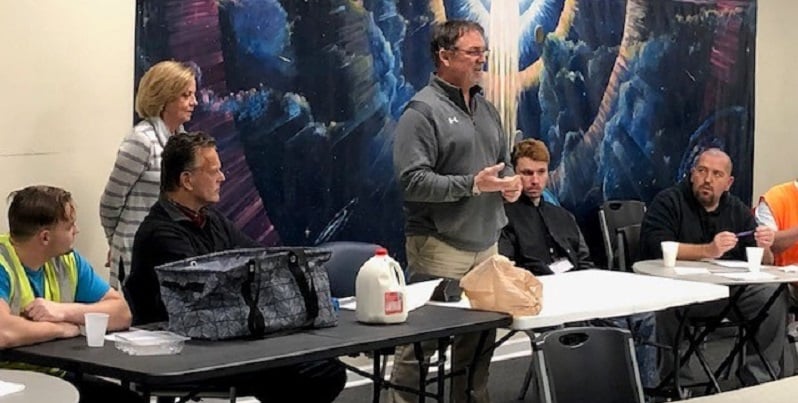 At ORR, we believe in the importance of building partnerships both internally and externally. That focus on partnership leads to a strong sense of responsibility to each other within our four walls and beyond. Steve Ellis is a great example of a member of the ORR team who promotes the importance of our broader community and the spirit of giving back.
Steve is ORR Corporation's corporate safety director. His job is to keep people safe, which is mission-critical work for us here at ORR. Steve and his team do this through mentoring, training, and encouraging ORR Associates to be aware of their surroundings and to make good decisions so they can go home safe each day. It's obvious through his work that Steve has a passion for people and that shines through in his personal life as well.
Steve and his wife work with men in the Louisville area who have recently come out of prison and are looking for a fresh start. In their program, Jobs for Life, Steve and his team provide a progressive curriculum of soft skills, hard skills, and workforce preparation.
Each of the 16 weeks provides a new layer of skills to help graduates find their footing in the next phase of their lives as they rebuild their daily routines and overall outlook on life.
"We got involved in Jobs for Life through our Sunday School class," says Ellis. "A friend had started this process, and he invited me to come with him. It was uncomfortable at first. I thought, 'These guys want nothing to do with me.' But I actually realized we were all very much alike."
A Purposeful Program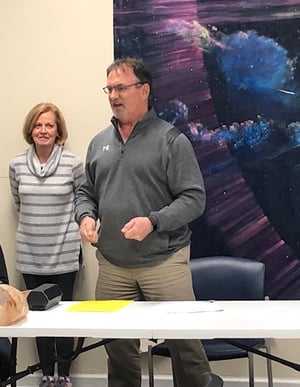 Jobs for Life is a national program that focuses on meaningful employment and teaches participants to navigate personal relationships and gain self-awareness. Many men returning home from prison had a rough childhood or grew up in a difficult family environment -- around 80% of them never finished high school, and 50% never got their GED.
They are looking for a fresh start and a purpose through a job. This is where Steve comes in.
"In Louisville right now, we're pretty close to full employment rates," says Ellis. "Most anyone who wants a job can get a job. But these guys end up starting in entry-level positions at 35 or 40 years old, and that doesn't always feel like the most meaningful employment for them. They want to advance into a position where they feel like they're being effectively challenged and rewarded in terms of the experience they have. Jobs for Life is here to help them achieve that."
Lifelong Learning Opportunities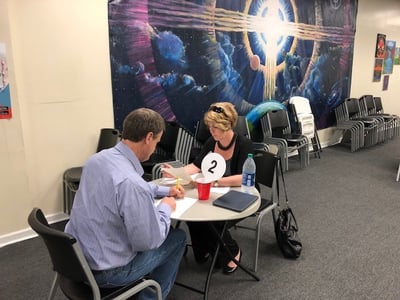 While the curriculum teaches the men how to search for jobs and present themselves well in interviews, it also focuses on helping them identify their strengths and weaknesses, prepare for workplace conflict, and leverage and improve their skills even after the program has ended.
"Throughout these 16 weeks, we become friends. These men are able to share opinions without being scoffed at. Someone is listening to them. Someone is paying attention to them. And it's amazing to see how their relationships grow, and how they grow as people through those relationships. The most important component of this program is helping these men feel like someone believes in them."
Over time, Steve's experience with the program has changed the way he approaches teaching others, and it has provided many learning opportunities for him as he learns to develop the program in more effective ways.
Steve has recruited other ORR Associates to give the program's participants real-world exposure to field work through mock interviews and conversations around career goals. ORR Corporation CEO Ray Aldridge, Recruiting Manager Amy Cullen, and eCommerce Manager Phil Aldridge have all shared their time and talents to help empower Job for Life participants. Bud Orr has also visited with classes on occasion to talk about opportunities in the distribution business and encourage students to set their goals high to achieve their fullest potential. In addition, several program graduates have found employment at ORR.
Continuing the Curriculum
90% of the Jobs for Life graduates elect to continue learning in a second phase, called Respect for Life. This is a six-week program that teaches more intensive lessons on how to build respectful attitudes and behaviors in other areas:
Respect for community
Respect in the workplace
Respect in personal relationships
Respect toward themselves
ORR is proud to have associates like Steve on our team, and we are happy to share in his program's success stories. Recent graduates report back after successful interviews where they feel confident, and we are happy to report others are growing their careers into management and leadership positions in the Louisville area.
If you're interested in learning more about Jobs for Life or Respect for Life, contact Steve Ellis at sellis@orrcorporation.com.