When we last saw the ORR banner it had just returned from Brazil. With the year coming to a close, the banner was handed off to Nick Southern, OPS National Accounts Manager, for one last adventure of 2017. And that adventure included a mountain top in Georgia and the last sunset of the year.
Farewell to 2017 – Another Banner Year
Nick and his fiancé Brittany have a love of the outdoors, especially hiking. They love the challenge and adventure, but most of all they love putting their busy lives aside and just spending time together in nature. "We like to travel and seek out adventure," said Nick. "If the weather is right we go hiking just about every weekend."
Nick and Brittany have explored many trails in Georgia, Tennessee and North Carolina. "Our favorite hike so far has been Mt. Le Conte in Smoky Mountain National Park," said Nick. "It's the fourth highest peak east of the Mississippi. We're currently planning to hike Mt. Mitchell, the highest peak in the eastern U.S."
In the meantime, Nick wanted to take the ORR banner out for a final farewell to 2017. Here is a picture of Nick and the ORR banner on Johns Mountain in North Georgia enjoying the final sunset of the year – December 31, 2017.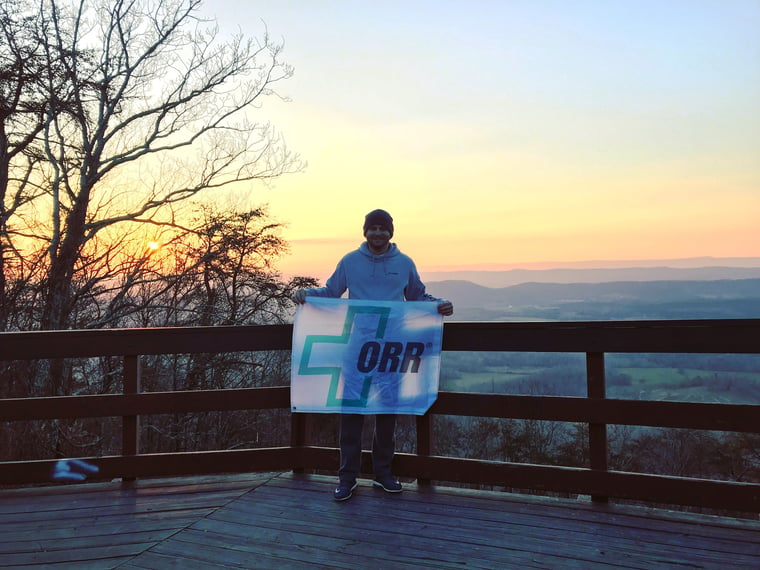 Watch for more ORR Banner Adventures on the Associate Highlights page