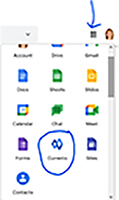 Don't forget to check out ORR's Google Support Center. It contains training videos, quick guides for Google applications and more. You can also join the ORR Support Community where you can ask questions, share tips, or post about features you've discovered. It can be accessed through the Google Support Center or on Google Currents.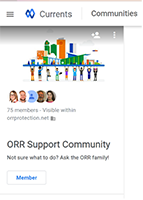 Once you are in Currents, click Community on the left and join the ORR Support Community.
NOTE: The link above will only open in the internet browser you have designated to use for your Google Workspace and Gmail account. If you get an error message, copy the URL and paste it into the browser you use for Gmail.